Honda Pilot vs Mazda CX-9 - The better buy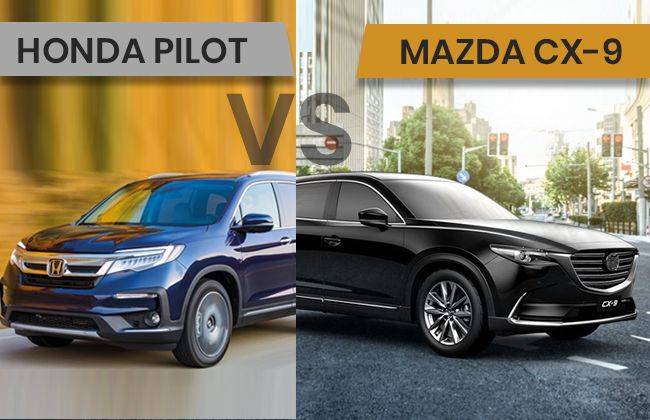 Let's say that you are looking for a new car in a market that's predominantly dominated by Sport Utility Vehicles or Crossovers, what are you going to do? Well, it is quite simple. You will likely want something in that category as well - especially if you are someone who travels with your entire family often. Therefore, a large-ish SUV or crossover fits the bill nicely.
Given the topic of this article, we already have our prime contenders for you to check out; and both are, coincidentally, from The Land of The Rising Sun. The Mazda CX-9 has been around since 2006, and sells in several key markets (including the UAE), except for Japan.
The outgoing iteration of Mazda's largest offering showcases the car's second generation and is built on a modified version of the Mazda 6 sedan's platform. Meanwhile, the Honda Pilot has been on sale for longer - starting from 2002. Sharing its architecture with the Odyssey, the Pilot is the largest crossover in Honda's line-up.
Given that you (presumably) have a budget of around AED 160,000, let's find out which one of these crossovers you and your family would be more excited about.
Dimensions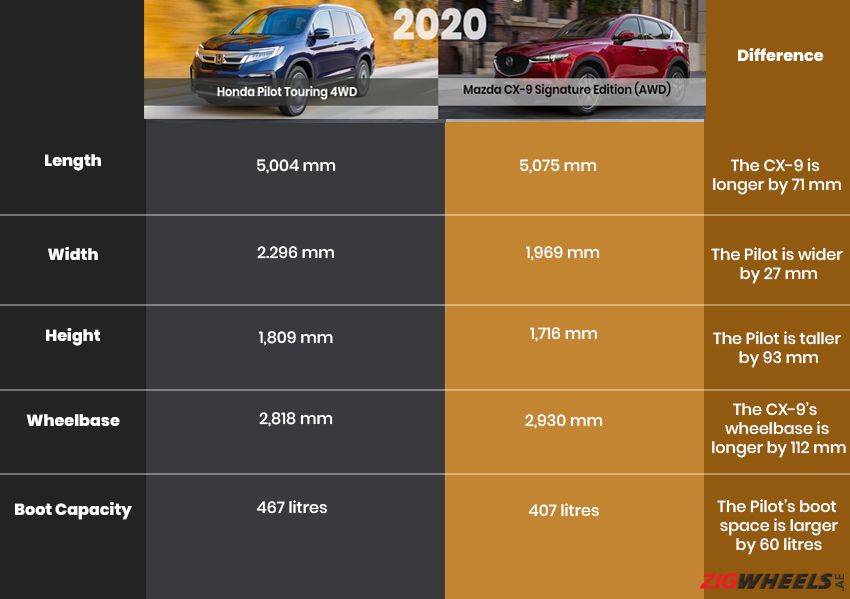 Exterior
Compared to the Honda Pilot, the Mazda CX-9 appears sportier and is also styled more sharply - more contemporary lines than the boxy Pilot. It may not be as wide or tall as the Pilot, but the CX-9 sure is longer and its overall design seems sleeker, too.
The Honda Pilot boasts an upright stance, a larger greenhouse area, and a flatter side profile - traditional "SUV" traits. The front grille of the Pilot features a wide yet thick chrome piece of trim, large headlamps, sculpted front bumper with a pseudo skid plate, bold-looking 20-inch alloy rims, body cladding with chrome detailing, and large but stylish tail lamps.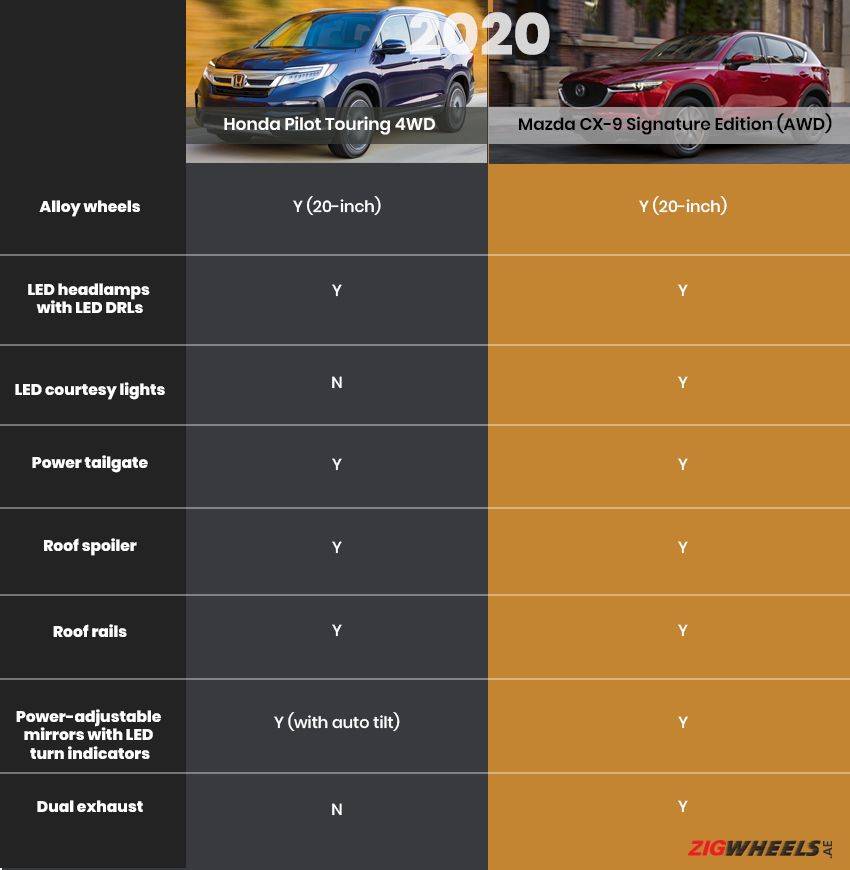 Meanwhile, the CX-9's chiseled face gets a sloping snoot with a wide and chromed-up grille, relatively-small headlamps, a long bonnet, and a well-sculpted lower apron. Of course, you get flared fenders, large alloy wheels, black body cladding, sleek tail lamps that are connected by a stylish chrome bar, and a twin-exhaust arrangement at the bottom.
Interior
Inside, both these cars feel quite upmarket and premium. Neither will leave you wanting for a lot more, especially when it comes to the essentials for a crossover in this segment. However, the Honda Pilot gets a few extras such as tri-zone climate control, heated & ventilated front seats, a dedicated rear entertainment system with headphones, an in-car PA system, and active noise cancellation.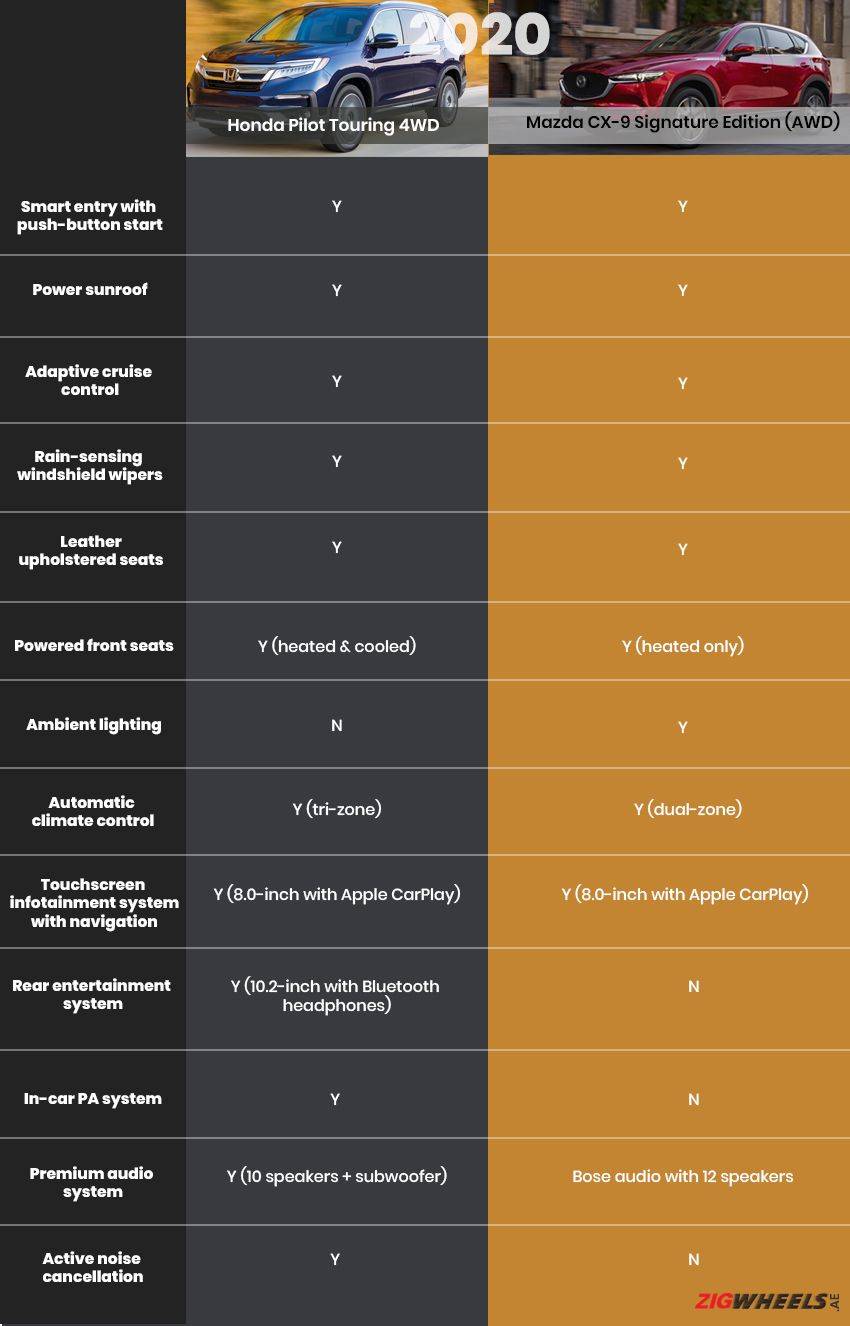 On the other hand, the Mazda CX-9 specs sheet features a fantastic Bose sound system and cool ambient cabin lighting. While both cars sport good build quality and fit-and-finish, it is the CX-9 that feels a touch more premium and more satisfying in several places, despite being the older car here.
However, the Mazda does look its age when it comes to the overall layout and design of the interior. The Honda Pilot, on the flip side, comes with modern touches like a part-digital instrument cluster, button-operated gearbox, and a fully frameless rearview mirror.
And whilst the CX-9's cabin feels more sporty, it is the cabin of the Pilot that feels more airy and bright because of its larger windows and interior trim colour choices. The third row in both of these cars is mostly suitable for children only (or smaller adults), though with this row in place, it is the Pilot that offers more cargo space - 467 litres versus the CX-9's 407 litres.
Engine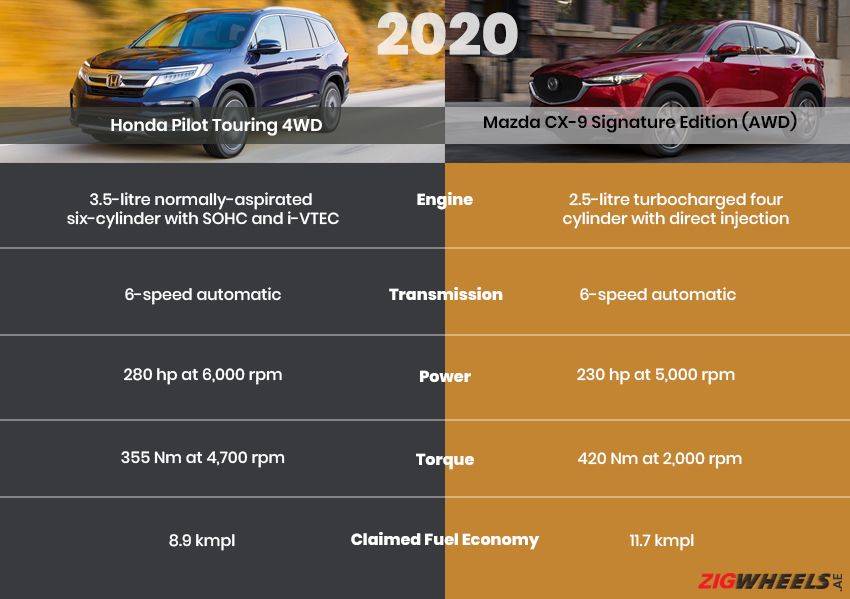 The Honda Pilot's larger V6 engine holds the advantage when it comes to horsepower, but Mazda's turbo four-pot motor leads when it comes to maximum torque - outputting 65 Nm more than Honda's 3.5-litre mill and at much lower revs. The CX-9 is also better when it comes to its fuel economy ratings as it achieves nearly 12 kmpl (combined cycle).
Both cars get some sort of all-wheel-drive system to help improve traction, irrespective of surface conditions. Transmission of choice, well, there's only one - a 6-speed torque converter in both the Pilot and CX-9. The latter is much faster as well. While the Pilot tops out at 175 kmph and takes 9.4 seconds to reach 100 kmph, the nimbler CX-9 maxes out at 210 kmph and does the 0-100 kmph run in under 8.5 seconds.
Safety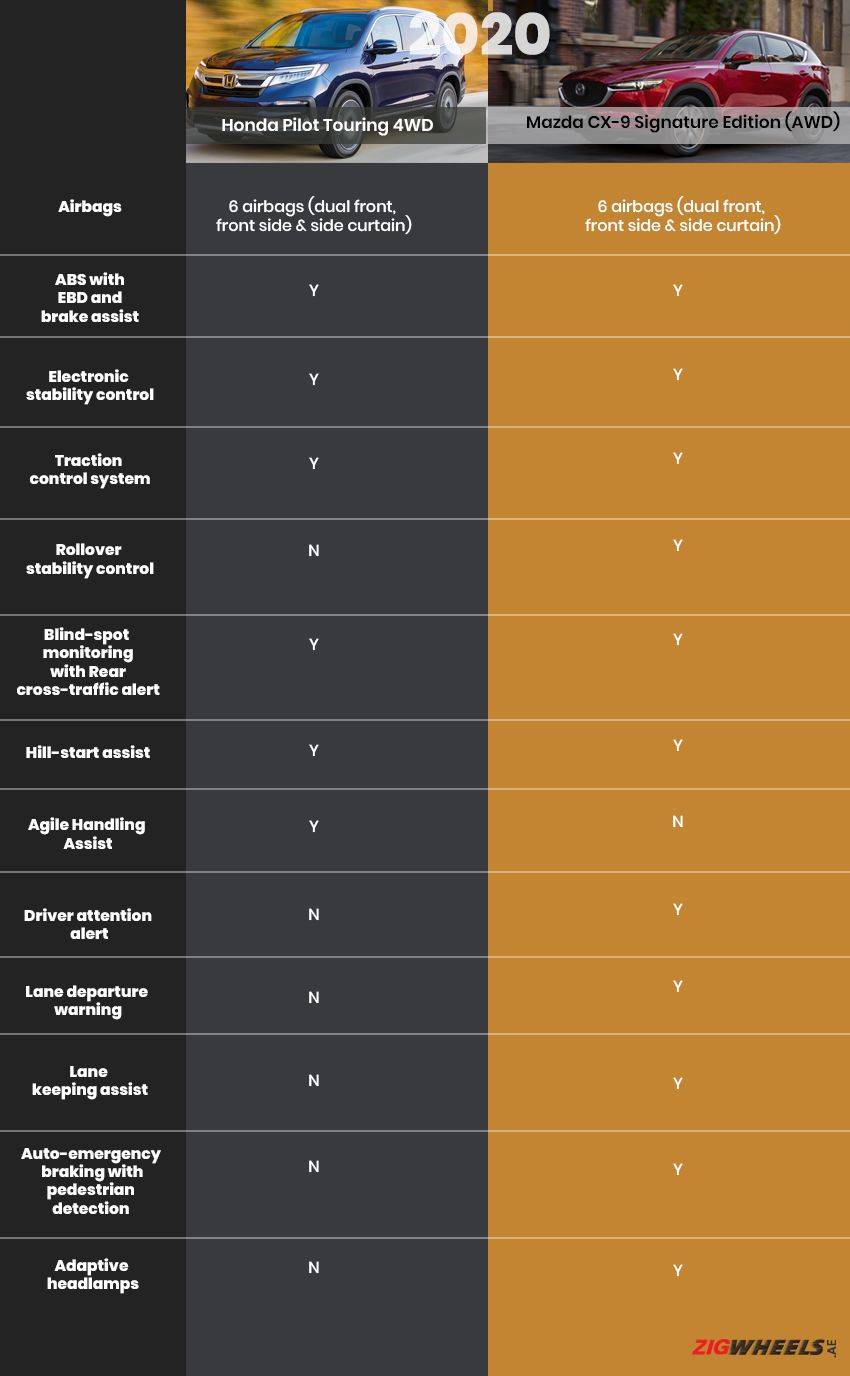 When it comes to safety features, neither of these cars is lacking any of the basic and/or vital equipment. For example, the Pilot specs sheet features the Honda's Sensing Suite package that brings with it a handy blind-spot camera which is mounted on the wing mirror on the passenger side.
However, you gotta hand it to Mazda for implementing pretty much everything they have at their disposal into the CX-9. The CX-9 can even stop automatically if it detects any pedestrian on its immediate path. Then there's also rollover mitigation and lane-keeping assistance.
Now, before we conclude this piece, here's a quick look at the Honda Pilot price and Mazda CX-9 price in the UAE.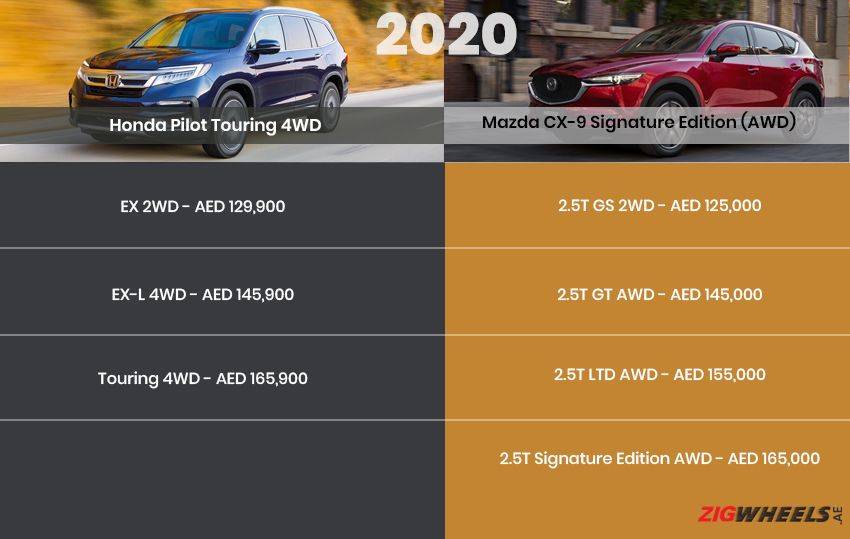 With the top trims of these two costing almost the same, things boil down to what you like as a buyer, especially when it comes to their design. However, while the Mazda CX-9 is older than the latest Honda Pilot, it offers even more safety features, better performance and fuel efficiency, a well-appointed cabin and drives better, too.
Also read: Top SUVs under AED 100k
Honda Pilot vs Mazda CX-9 Comparison
Honda Car Models
Honda ACCORD E HEV

Honda ZR-V

Honda HR-V

Honda Civic

Honda Pilot

Honda Odyssey

Honda CR-V

Honda City

Honda Accord

Honda CIVIC TYPE R
Honda Cars Price

Choose a city to get promos and prices in your area