2020 Toyota Corolla vs 2020 Honda Civic - What happens when sedans from two major brands fight?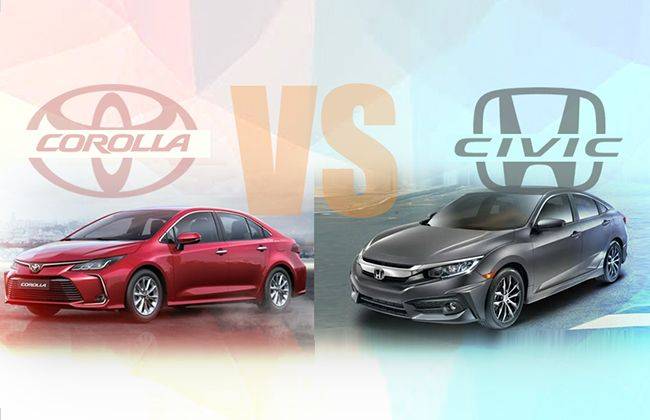 Today, if you want to buy a very reliable, well-made, efficient and practical family sedan, two options come forth as being the most promising -- these cars are the legendary Toyota Corolla and the equally prominent Honda Civic. In the United Arab Emirates (along with other GCC nations), cars like the Corolla and Civic have long maintained strong bonds among the people of the region.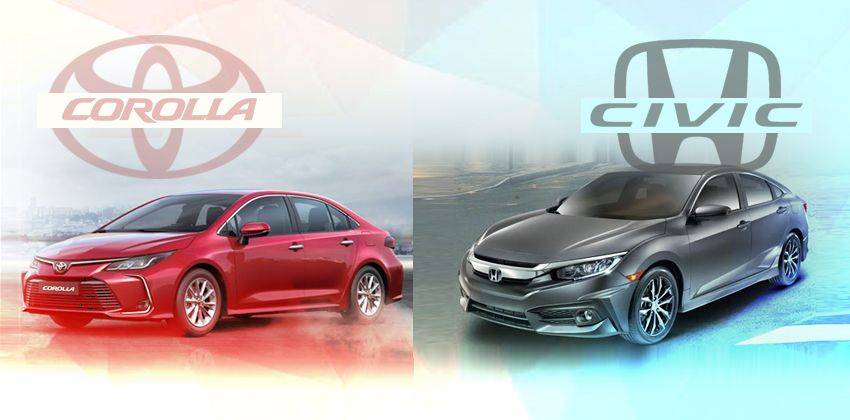 In fact, the Toyota Corolla has been around in one form or another since the late 1960s, whilst the Honda Civic has been conquering hearts since the early 1970s. At present, the Civic is in its tenth generation, whereas the latest avatar of the Corolla represents the model's twelfth generation. Competition within the compact sedan (C-segment) isn't won easily, especially not in a market as fierce as the UAE.
Overall, the new Toyota Corolla's line-up includes five variants, while the Honda Civic is offered in four variants in the UAE. Assuming that you have a budget of just under 80,000 dirhams, which one of these two sedans makes for a better buy? To get the ball rolling, let's lay out some of the most important and noteworthy aspects of each car so that you can get a better sense of the matter at hand, beginning with…
Dimensions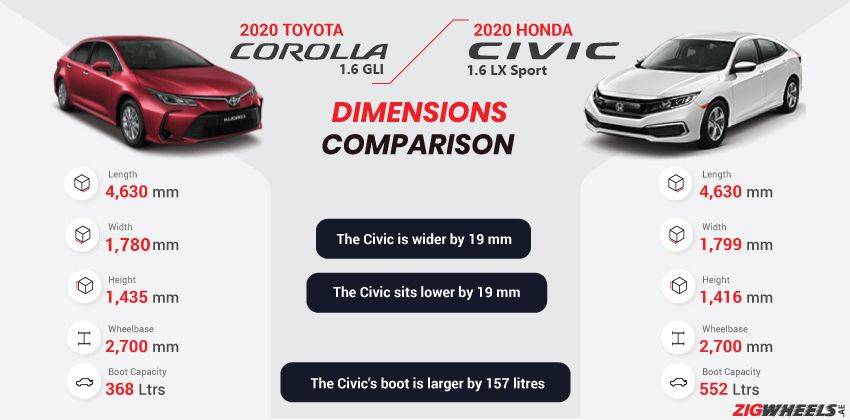 Exterior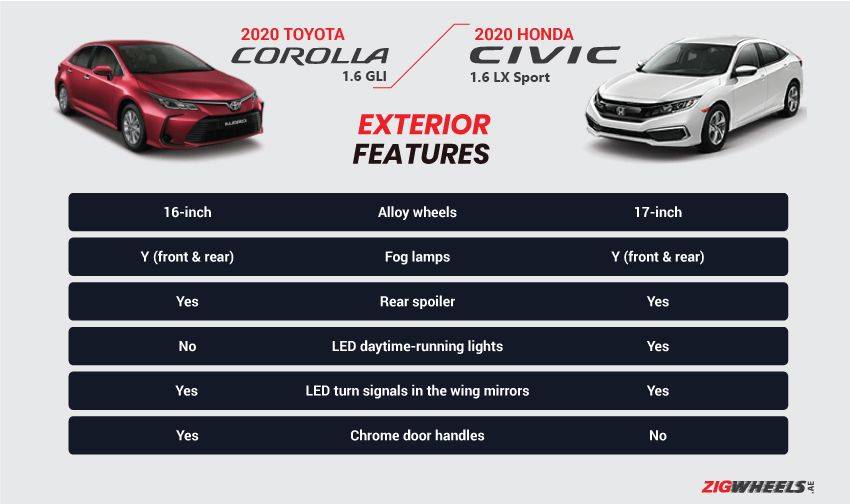 In terms of their overall design, these two sedans look equally appealing, though their styling may not cater to identical audiences. For example, despite the Toyota Corolla being a newer model than the Civic, the latter appears sportier and its design more contemporary.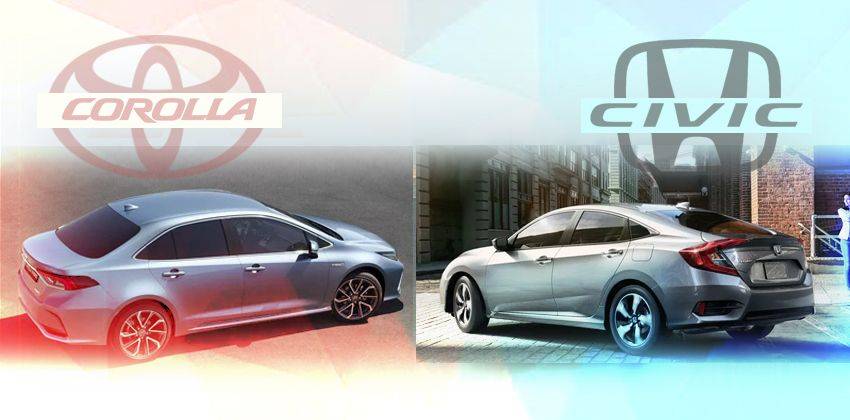 The Civic (LX Sport) features a well-chiseled front end with sharp headlamps, sportier bumper front & back, larger & bolder 17-inch alloy rims, coupe-like side silhouette, snazzy boomerang-shaped tail lamps, and a larger rear spoiler compared to the Corolla's smaller fitment.
Interior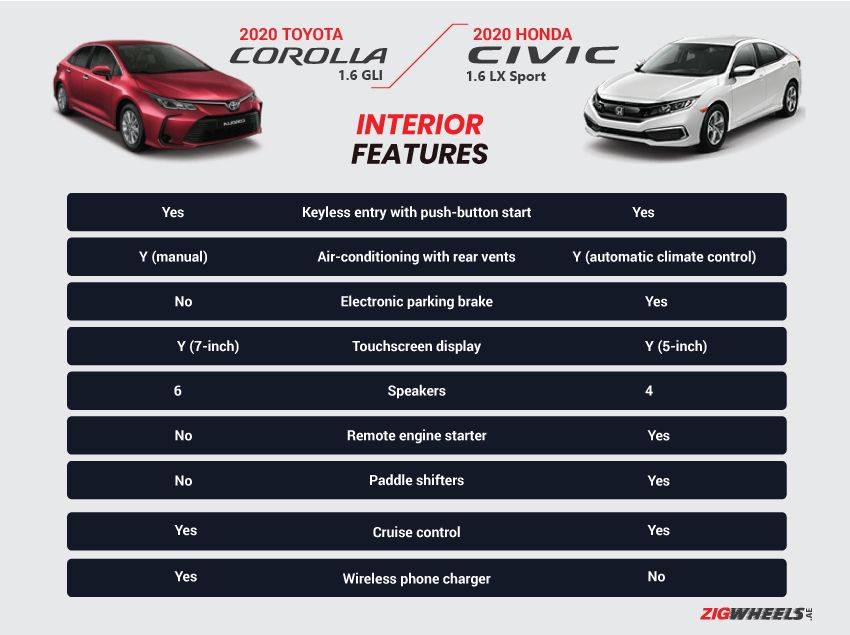 The cabin of the Toyota Corolla 1.6 GLI comes with certain niceties that the Civic lacks. These include a larger 7-inch touch-infotainment display with six speakers (instead of the Honda's four) and wireless phone charger. On the other hand, the LX Sport variant of the Honda Civic comes with features like automatic climate control, electronic parking brake, paddle shifters, and a remote-controlled engine starter as well.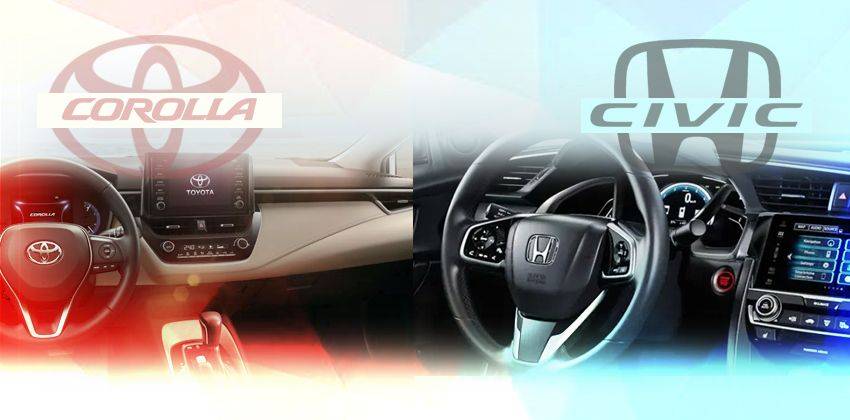 The Honda Civic's cabin feels really well-built featuring good quality materials, though you will find enough hard plastic here to make certain that you don't feel more elated than necessary. As for the design, the new Corolla gets a larger, tab-like infotainment head unit placed on the dashboard and along the line-of-sight of the driver.
In terms of comfort, both of these sedans feel pretty relaxed and quiet to ride in. The two also share identical wheelbase and length numbers though the Civic evidently has a more heavily-sloped roof than the new Corolla's -- this style-statement does eat into the headroom of rear occupants by a fair margin. Overall, however, the Corolla definitely feels more spacious and thus, a little bit more comfortable as well.
If moving a lot of stuff around is a common occurrence, then the Honda Civic's more cavernous boot with its 525 litres of total space will surely be useful than the Corolla's smaller 368-litre trunk.
Engine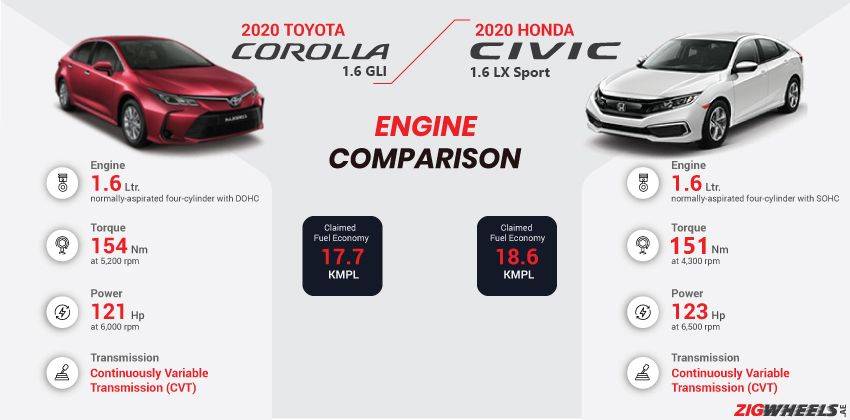 Neither of these two cars are really too exciting to drive no matter how hard you push them, though that isn't to say that they are particularly boring, either. Under the bonnet as well, there really isn't much to choose between either the Corolla or Civic as both deliver almost similar power figures from their 1.6-litre engines.
If you still want to smash the accelerator, then the new Corolla might prove to be a little quicker on its feet than the Civic -- this is apparent from its 0 to 100 kmph sprint time of 11 seconds as compared to the Civic's 11.6 seconds time for performing the same task. However, the Honda Civic does boast a higher top speed of 200 kmph instead of the Corolla's 190 kmph.
As for their fuel economy, the Honda Civic is rated at 18.5 kmpl on a combined cycle, while the 2020 Toyota Corolla should be good for 17.7 kmpl.
Safety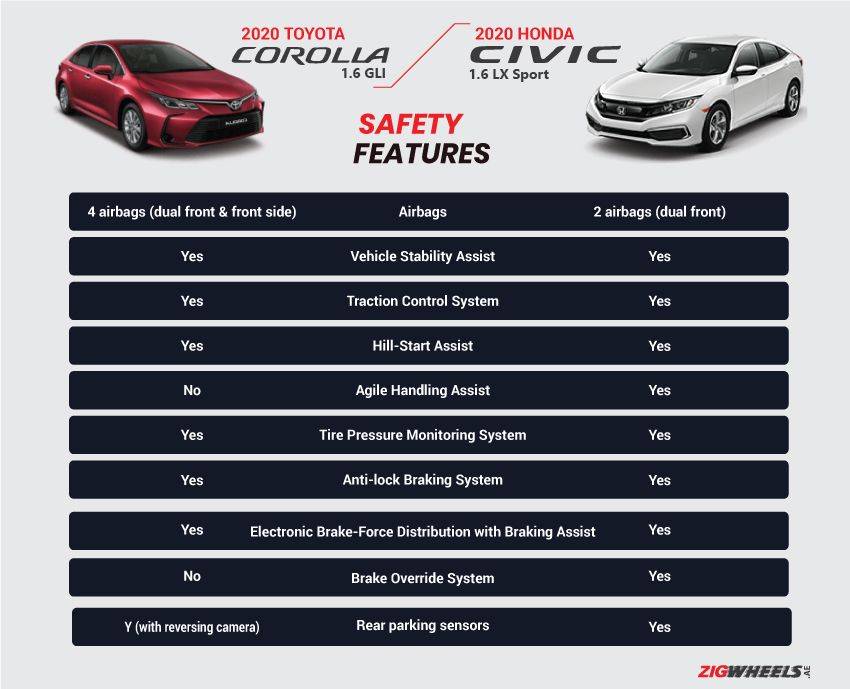 In terms of their outright safety factor, it is clear that the 2020 Toyota Corolla, with its four airbags (two more than the Civic) and a reversing camera, certainly scores better. With that being said, the Civic does get features such as Honda's Agile Handling Assist (AHA) and a Brake Override System (BOS).
Price
Here is a look at 2020 Toyota Corolla price and 2020 Honda Civic price -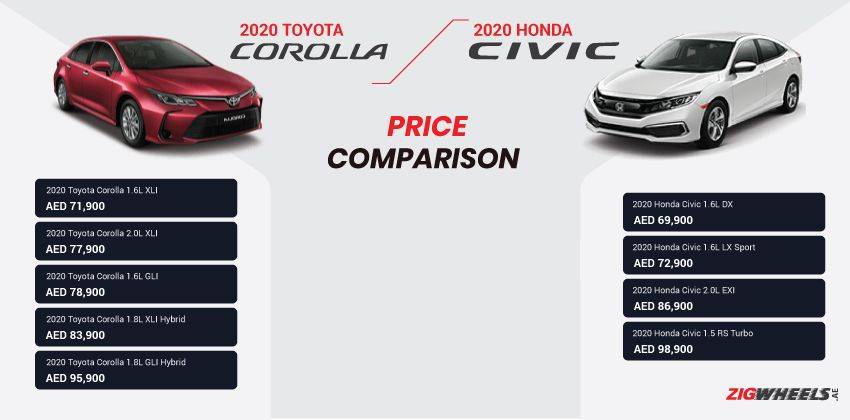 As you can clearly see, the Honda Civic base variant costs less than that of the Toyota Corolla, while the fully-loaded variant of the Corolla costs less than that of the Civic. However, with our budget pegged at under AED 80,000, which one should you go for - Corolla 1.6 GLI or Civic 1.6 LX Sport?
Well, if your priority dictates a car that boasts a stylish exterior design with good boot capacity and is decent fun to drive, then the Honda Civic wouldn't disappoint you. However, if you want a much newer car with more safety features, good cabin space, excellent resale value along with impeccable reliability, then the 2020 Toyota Corolla is a no-brainer.
Also read: Toyota Corolla: Variants explained
Toyota Corolla vs Honda Civic Comparison
Toyota Car Models
Toyota C-HR HEV

Toyota Supra

Toyota Fortuner

Toyota Land Cruiser

Toyota Corolla HEV

Toyota Land Cruiser Prado

Toyota Yaris Sedan

Toyota Highlander

Toyota Corolla

Toyota Urban Cruiser
Toyota Cars Price


2020 Toyota Corolla vs 2020 Honda Civic - What happens when sedans from two major brands fight?
Choose a city to get promos and prices in your area