Volkswagen Touareg R PHEV to premiere at Geneva Motor Show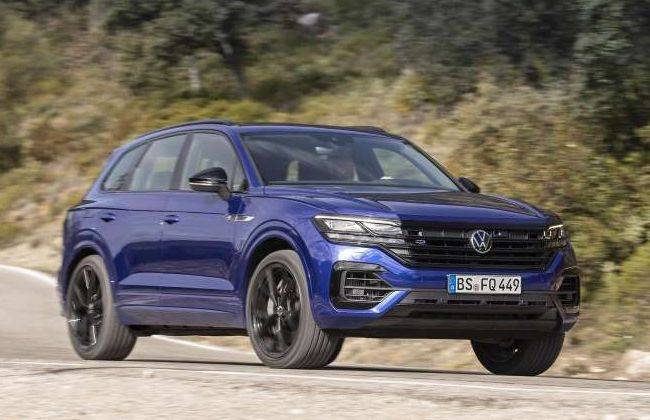 Volkswagen Touareg is one of the most popular mid-size SUVs in almost all the countries it is sold in. However, cometh the Geneva Auto Show 2020 and the German automaker is set to introduce the plug-in electric hybrid form of the Touareg R to the public.
The Volkswagen Touareg R will be powered by a combination of a 3.0-litre V6 gasoline engine with an electric motor. The combustion engine can produce a maximum power of 340 PS, which the electric motor can make an additional 136 PS. The combined power from the PHEV drivetrain would be a whopping 462 PS and 700 Nm.
The produced power is sent to all the wheels via an 8-speed automatic transmission gearbox. The drivetrain also has a torque converter and the 14.1 kWh battery pack is packed under the cargo floor.
The electric motor in the Touareg R is already very capable. It can speed up to 140 kmph in pure electric mode before the IC engine kicks in. The initial punch is always taken from the electric motor, just like in case of any electric motor. However, the automaker has not provided the details of the combined driving range, though a vague statement gives us a hint that it could do average daily commute in pure electric mode.
The cabin of the Volkswagen Touareg R PHEV would be a very innovative one. The infotainment system gets a large 15-inch touchscreen display, while the digital driver's console is a 12-inch unit. The car gets assistance features, like lane-keeping assistance, active cruise control, etc. The car gets Matrix LED as standard. Also, the Night Vision camera detects animals and people in the dark.
The Volkswagen Touareg R PHEV is set for the European market. So, we might not get the petrol-hybrid car in the Middle East any time soon. As of now, the German automaker sells the Touareg in 2.0-litre, 4-cylinder and 3.0-litre V6 powertrains (both 4WD).
Also read: VW self-driving shuttles to transform Qatar's public transport
Explore Volkswagen Touareg
You might also be interested in