The Giant Conundrum: Toyota Land Cruiser or Nissan Patrol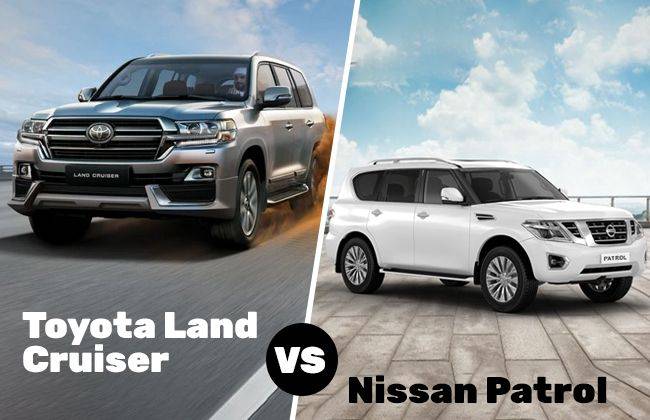 If you know anything about the UAE, you already know that it is nigh-on impossible to miss a Toyota Land Cruiser or Nissan Patrol, no matter where you are in the country. These two SUVs are so iconic in this region that there's probably no one who hasn't heard of them.
Given their immense off-roading capabilities, it is little wonder that these two are likely on most people's list when they are looking for buying a full-sized family SUV. Let's begin with the Land Cruiser. Toyota released this dune-bashing no-nonsense 4x4 way back in 1951, and since then, it has been an almost infallible champion of the desert.
Then we have the equally fabulous Nissan Patrol. Just like its arch-nemesis, the Patrol hit the market with much gusto in 1951. Just as body-on-frame as the Land Cruiser, the Patrol is no wussy. It has been way too busy tackling stubborn surfaces to be bothered much with rivalry. Currently, in its sixth-generation Y62 avatar, the latest Patrol is riding on top of Nissan's modern F-Alpha platform.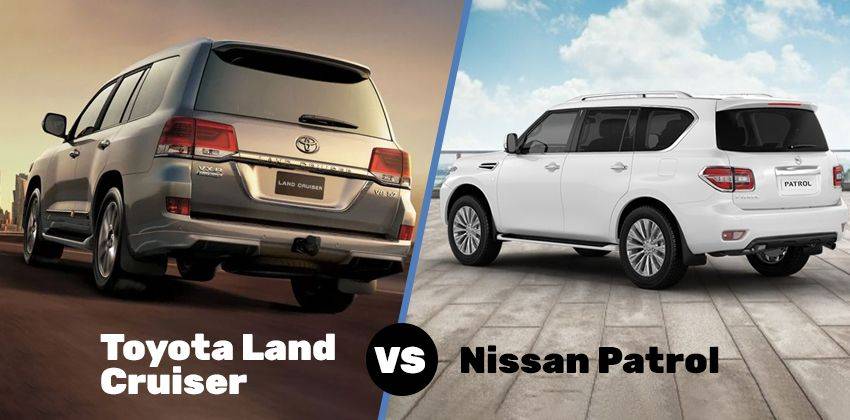 On the other hand, the J200 series Land Cruiser has been around since late 2007. Built on the same platform as its ultra-premium Lexus LX cousin, the outgoing Land Cruiser is surely a worthy opponent for the Patrol.
In this particular case, let's take a budget of over 300,000 dirhams (but under 350,000) as the basis for this whole piece's conclusion. Now that we have our budget sorted, which one of these amazing 4x4s should you bring home? Let's go through some basics first, shall we?
Dimensions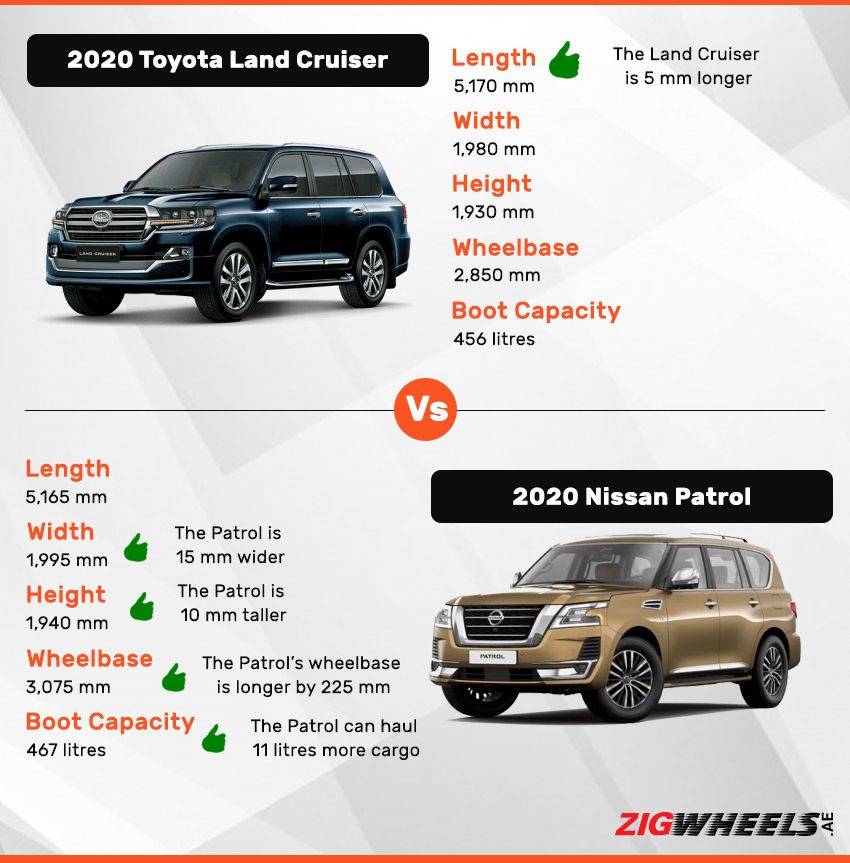 Exterior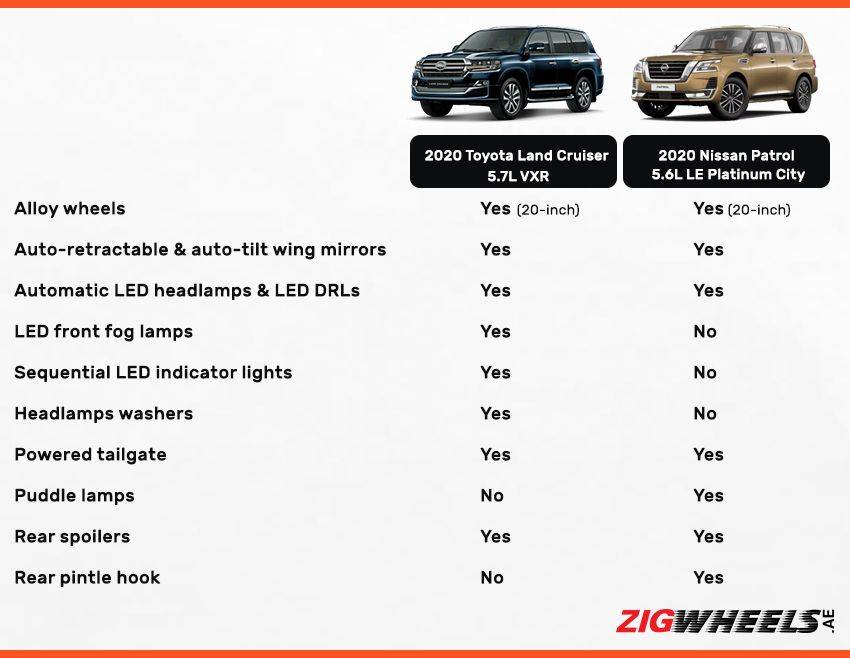 Both these blue-blooded SUVs have some similar physical characteristics. For instance, both the Land Cruiser and Patrol have an overall boxy exterior design, with deep wheel arches, large alloy wheels with thick rubber, fixed running boards, large greenhouse, and flat side profiles.
While both these large SUVs are imposing and have an immense street presence, the Land Cruiser is still the one that rocks a traditional 4x4 silhouette and barely tries to actually be contemporary. On the other hand, the Patrol boasts an angular front end with Nissan's latest V-grille, stylish headlamps, more chiselled front bumper and a flatter bonnet.
Then there are the fender vents, sleeker window lines, thicker rear chrome strip and more muscular bumper. Overall, the Nissan Patrol has no issues looking sportier, more sculpted yet sleeker, without sacrificing any shade of masculinity.
Interior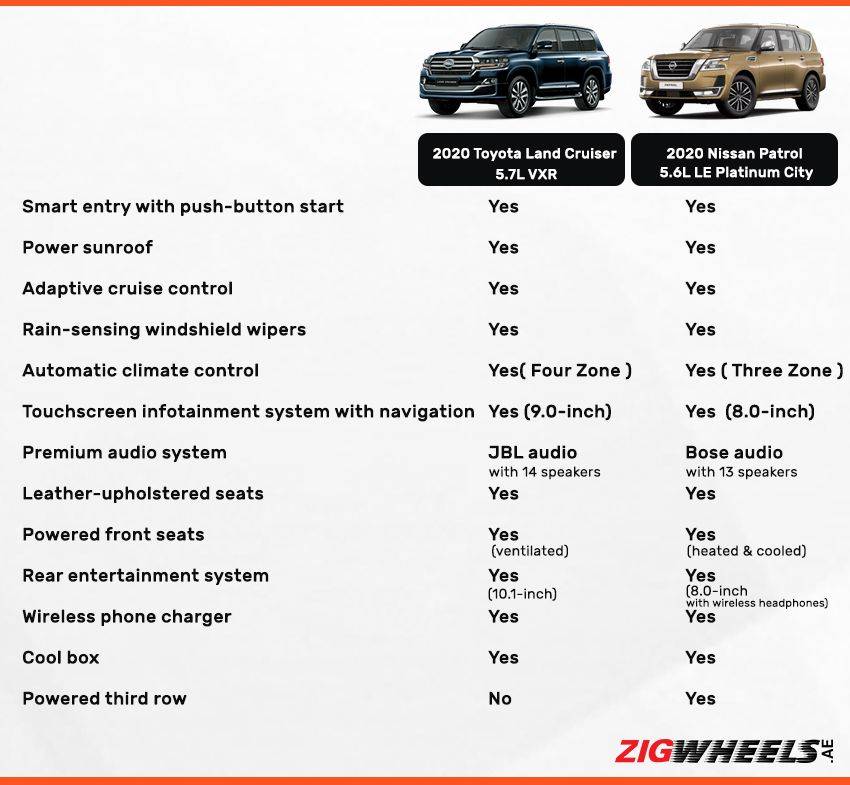 If it is luxury and overall comfort that you are scouting for, the Land Cruiser and Patrol will absolutely not disappoint you. There are enough soft-touch surfaces, high-quality materials, and superbly comfortable seats to keep you and your loved ones happy. Of course, there's enough room across the first and second rows so as to not lead to any complaints.
As for the final row, the Patrol does slightly better than the Land Cruiser. This is chiefly because of the former's longer wheelbase (3,075 mm vs 2,850 mm). Even better, the Nissan Patrol features power-operated third-row seats, which not only makes it easier to use them but also makes this cabin feel even more premium.
In terms of their interior gadgets, the Land Cruiser specs sheet gets quad-zone climate control, a larger 9.0-inch touch-infotainment display, a 14-speaker sound system, and larger 10.1-inch rear-seat entertainment screens.
Meanwhile, the Nissan Patrol specs sheet features a crisp Bose audio system, heated (and cooled) front seats, wireless rear headphones, and powered last-row seats. On the inside, both these SUVs feel really comfortable, sufficiently quiet (for proper 4x4s), and occupant comfort is a non-issue.
Equally, neither of these falls on their face as far as build quality and fit & finish are concerned. However, there are times when you will end up feeling like the materials and trim pieces on-board the Nissan Patrol feel a tad more upmarket and premium.
Then there's the cargo space that's available behind the final row of seats. Here's where the Patrol inches ahead of its Toyota rival -- it boasts 11 litres more cargo room than the Land Cruiser.
Engine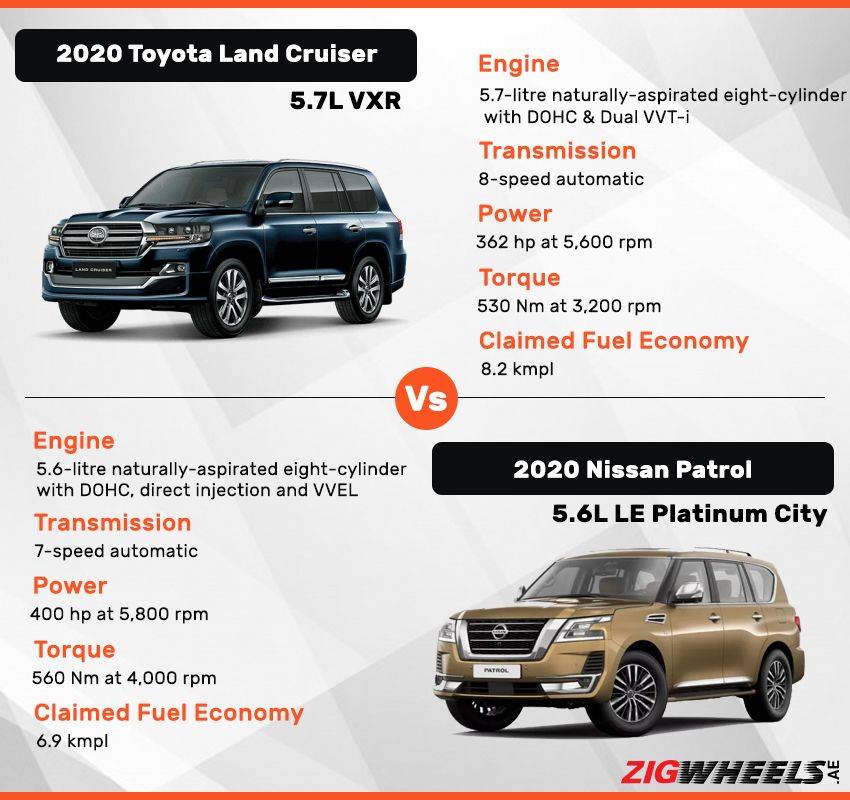 The Toyota Land Cruiser might have a bigger engine (by about 100 cc), but it is the Nissan Patrol that puts out more oomph at the end of the day -- 400 horses and 560 Nm of torque can be found under the hood of the Patrol. However, if you care about better fuel economy, which you probably won't, then the Land Cruiser does better than its Nissan counterpart.
And while these big bad SUVs aren't exactly about on-road blitzing, the Nissan Patrol clearly does better than the Cruiser. For instance, the Patrol can finish the sprint from naught to 100 kmph in just over 6.5 seconds, whilst the Land Cruiser takes around 7 seconds to accomplish the same. However, when it comes to top speed, the Land Cruiser can do 220 kmph, while the Patrol maxes out at 200 kmph.
Safety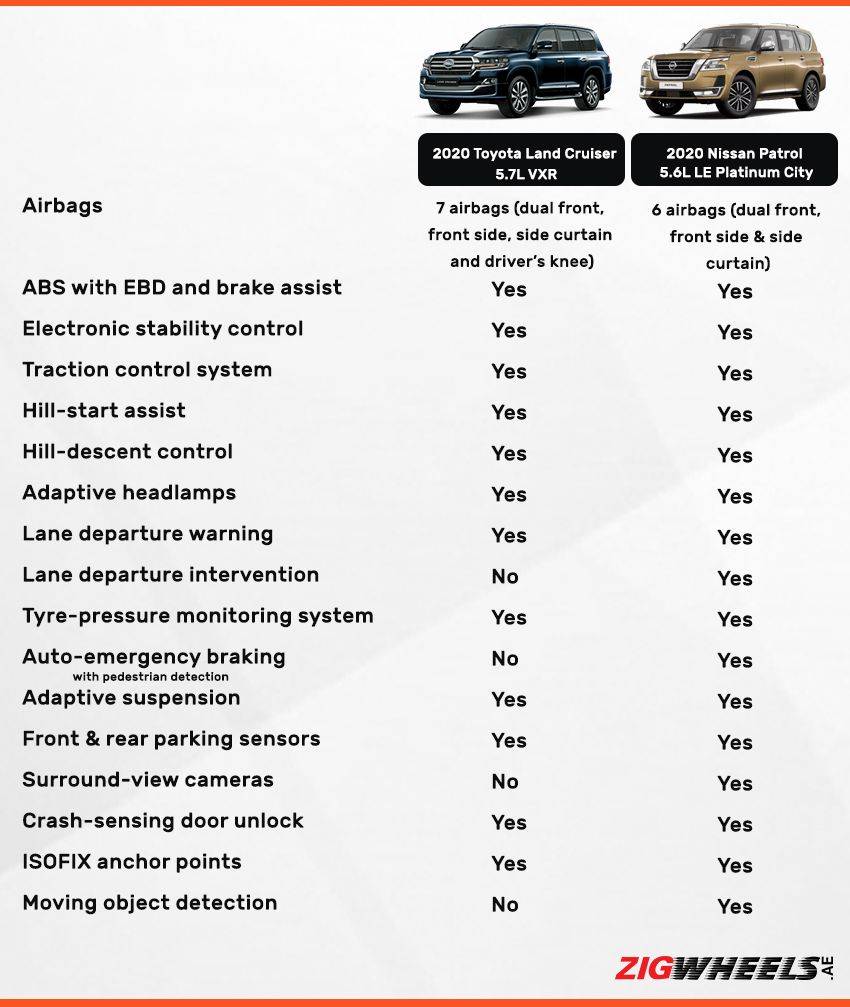 For those of you who are really safety conscious, these two massive SUVs perform really quite well. They are loaded with tonnes of passive & active safety nannies that will ensure that you and your folks are going to be safe and secure.
However, the Land Cruiser gets some extras over the Patrol such as seven airbags (instead of just the six in the Patrol). Then again, the Nissan Patrol comes with some cool stuff like active lane-departure intervention, auto-emergency braking with pedestrian detection, 360-degree parking cameras, and moving object detection.
Price
Here's a thorough breakdown of the prices of these two SUVs in the United Arab Emirates.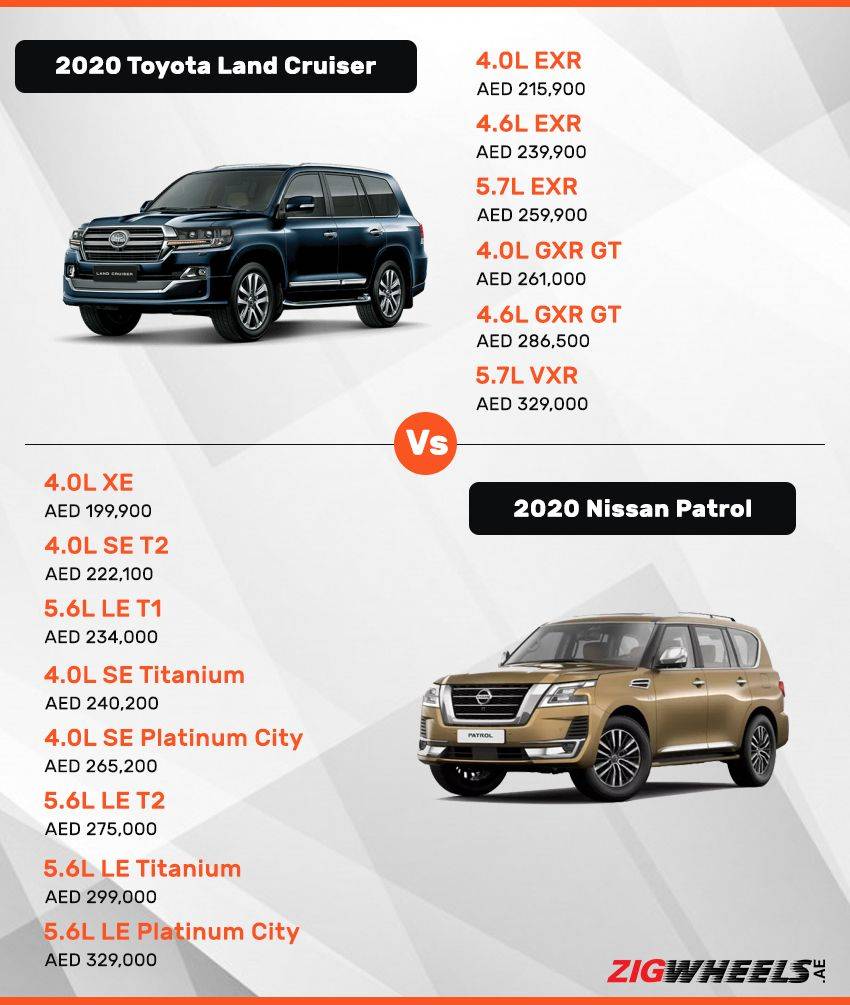 Since both of these SUVs cost the same (fully-loaded trim), the cost isn't really of concern here. However, if you want your luxurious family 4x4 to feel sprightly but also be exceedingly capable off-road, be well-equipped, really well-built, and have a fairly head-turning design, then the Nissan Patrol LE Platinum City sure won't let you down.
Also read: 2020 Toyota Corolla vs 2020 Honda Civic - What happens when sedans from two major brands fight?
Nissan Patrol vs Toyota Land Cruiser Comparison
AED 195,000 - AED 342,000
AED 215,900 - AED 329,000
Patrol vs Land Cruiser
You might also be interested in
Latest Nissan Patrol Car Videos on Zigwheels