Renault Duster vs Ford EcoSport - Which one to buy?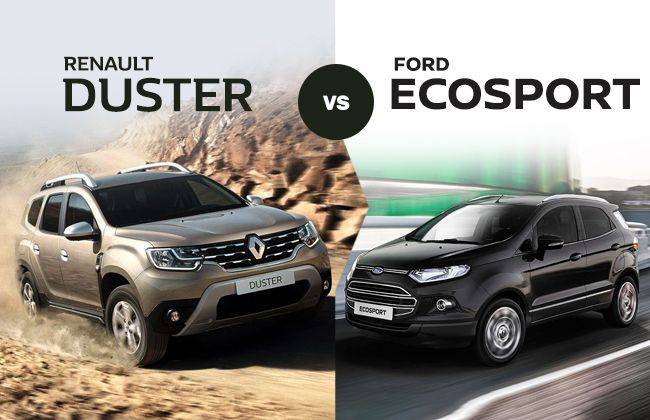 Small and affordable family crossover SUVs do exceedingly well all over the world in terms of sales numbers and their popularity, and the United Arab Emirates is no stranger to this. Almost every major automaker has their hands in the subcompact/compact crossover segment, with demand for these vehicles never really dissipating.
In this article, we will be taking an in-depth look at two of the really famous names in the market - Ford and Renault. From the American corner, we have the refreshed EcoSport -- the other big name here comes from France and in the form of the new Duster.
The new Ford EcoSport and Renault Duster each have their own strong suits and respective weaknesses - something we will surely be checking out during the course of this write-up. First things first, though… If you are looking at a car in this genre, chances are that you, more likely than not, don't have a very deep budget.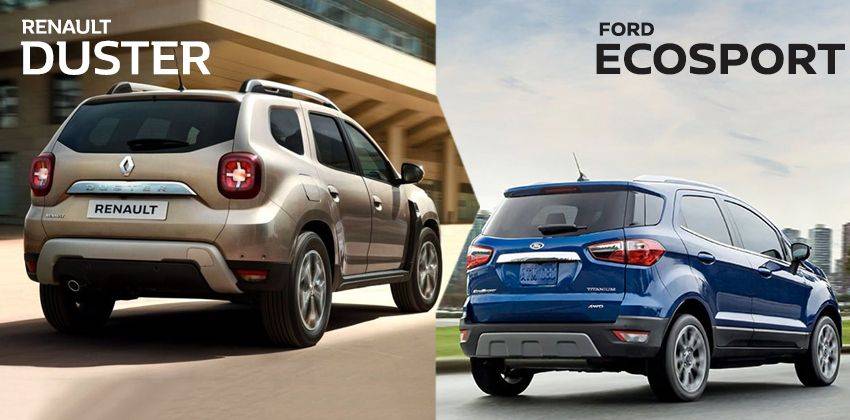 So for this instance, let's go with the assumption that you have set yourself a budget of between AED 55,000 to AED 75,000, which one of these two crossovers makes more sense and why? Keep reading to find out.
Dimensions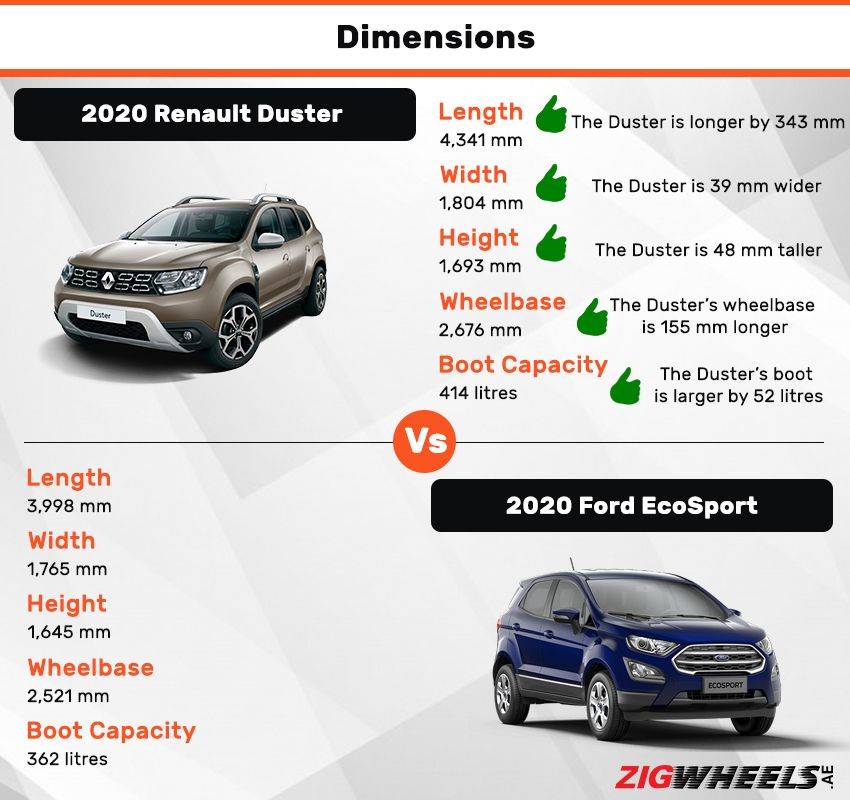 Exterior
As you get closer, it becomes apparent that the Renault Duster is a bigger car when compared to its American rival - in every aspect. While the EcoSport looks more like a large hatchback that has been jacked up, the Duster pulls off "the miniature SUV" look a lot more convincingly.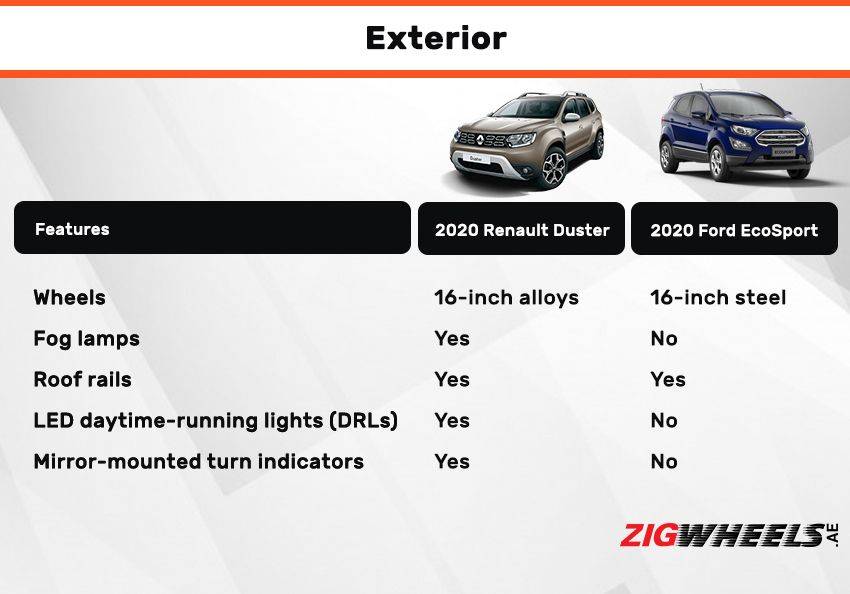 The EcoSport gets a larger and more prominent front grille, sleeker headlamps, and a more urbane profile when compared to the Duster. The EcoSport does get its fair share of body cladding, though. Meanwhile, the EcoSport's heavy tailgate swings open sideways, whilst the Duster's opens up and out of your way.
The new Duster features a triple-slatted front grille that's flanked by chunky-looking headlamps with LED daytime-running lights. To further amplify its toughness and muscularity, the Duster sports really pronounced wheel arches, a heavily-sculpted bonnet, larger roof rails, and stylish but boxy LED tail lamps. Also, the Duster (SE trim) comes as standard with 16-inch alloy rims.
Interior
Since we are comparing the mid-spec trim of the Renault Duster with the entry-level trim of the Ford EcoSport, it is no surprise that the former comes with more bells & whistles as standard. Features such as keyless-entry & go, automatic climate control and a leather-trimmed steering wheel surely make the interior of the Duster SE feel a touch more modern than its rival.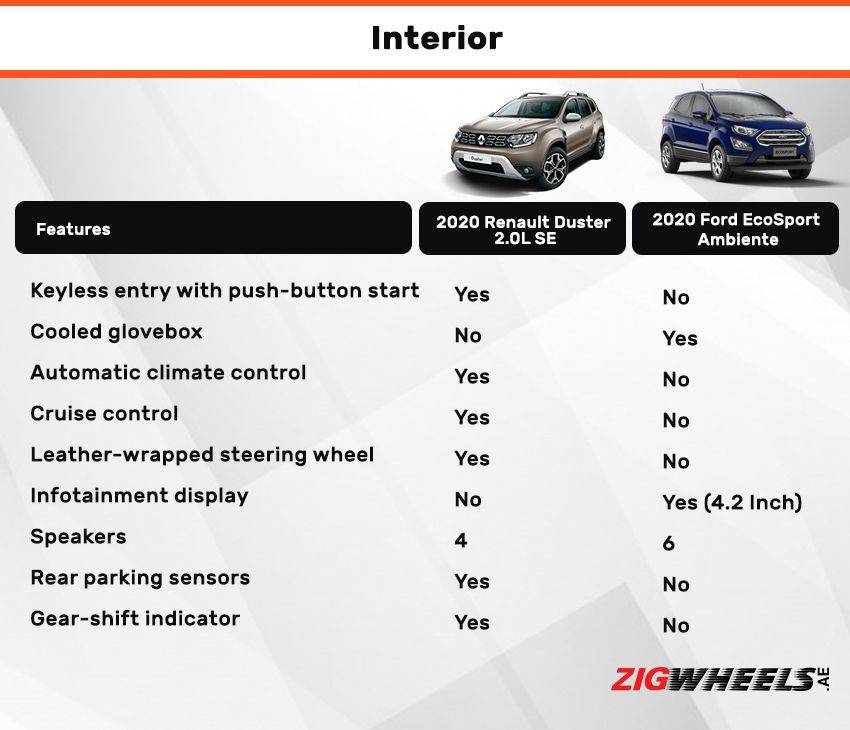 When you look at the practical and more tangible aspects of these cars' interiors as well, the larger size of the Renault Duster means that it is the one that offers more room and thus feels more spacious for passengers -- its luggage-hauling capacity, at 414 litres, is also greater than the Ford's. Carrying five people won't be much of a faff in the Duster.
In terms of their build and material quality, neither of these two are going to wow your senses and fill you with admiration. Both of them have plenty of hard plastics all over the cabin, and while the general fit & finish is fairly decent, neither of these crossovers feel particularly luxurious in any shape or form.
Engine
Clearly, the Renault Duster specs sheet features a 2.0-litre motor which is capable of developing higher horsepower and torque figures when compared to the EcoSport's 1.5-litre unit -- the Duster SE is also equipped with an all-wheel-drive system. However, Renault's engine finds itself mated to an antiquated 4-speed gearbox, whilst Ford's powerplant spins the front wheels via a 6-speed transmission.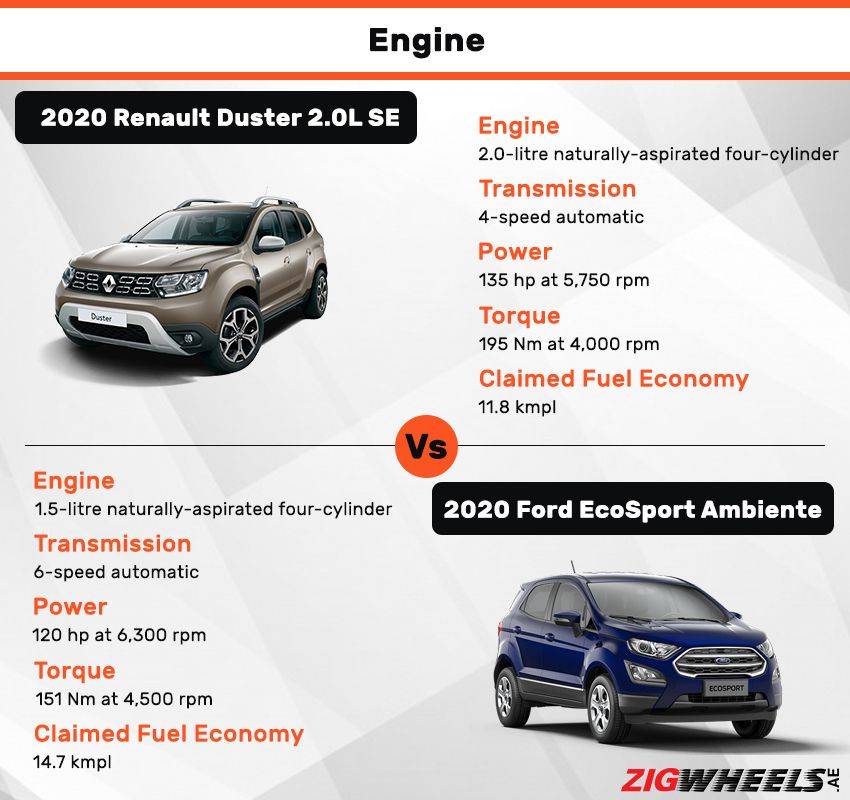 As for their performance on the road, the Renault Duster can go from 0 to 100 kmph in 11.5 seconds. Meanwhile, the EcoSport requires nearly a second more to complete the same task. Terminal velocity for the EcoSport stands at 170 kmph and that of the Duster hovers just under 180 kmph. And if you drive it with a light right foot, then the EcoSport can prove to be less thirsty (14.7 kmpl vs. 11.8 kmpl).
Safety
The Renault Duster SE (AWD) obviously comes loaded with more driver-assistance and safety features than the base Ambiente trim of the Ford EcoSport. Thanks to its nifty all-wheel-drive system and hill descent control, you could take it off-road on some mildly-challenging trails.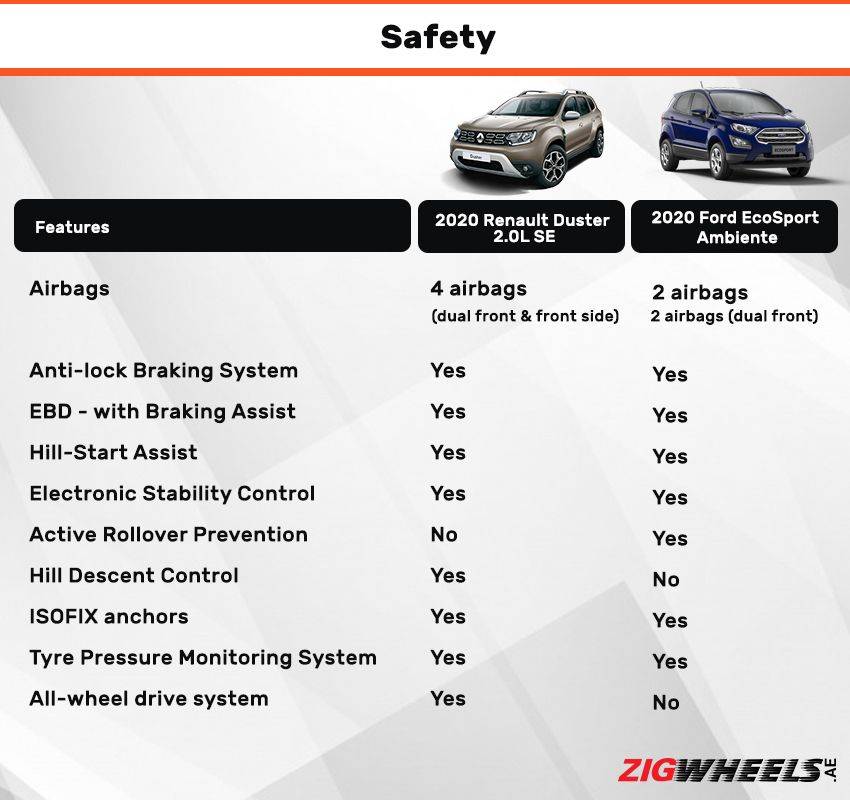 All of that said and done, how much can one expect to pay for one of these crossover SUVs in the UAE? Let's compare the Renault Duster price and Ford EcoSport price list for all the trims: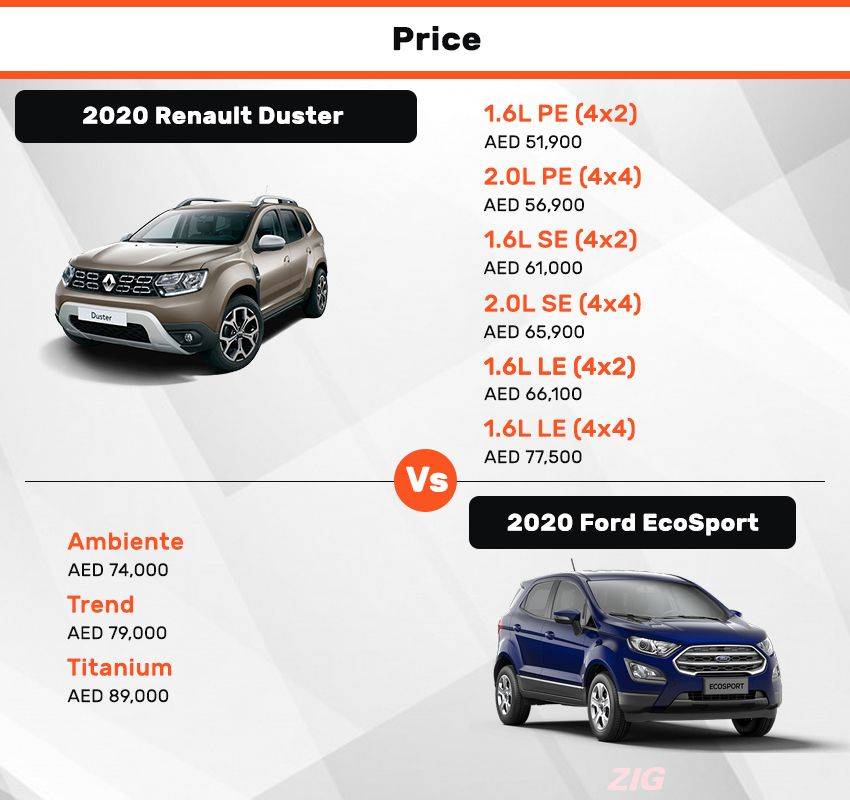 As we mentioned at the start of this article, most buyers who are in search of a car in this segment don't really want to spend too much on their purchase. This is the exact reason why we picked the Ford EcoSport Ambiente trim to go up against the Renault Duster SE (4x4) trim.
Given the price constraint, there is really no contest here. The mid-spec Duster SE (4x4) easily takes the lead here. With a price advantage of over 8,000 dirhams, and boasting better performance and more safety features, this one certainly goes to the 2020 Renault Duster.
Also read: Ford EcoSport - 5 Features we love
You might also be interested in
Latest Ford Ecosport Car Videos on Zigwheels