Hyundai unveils all-new 2019 Veloster and Veloster Turbo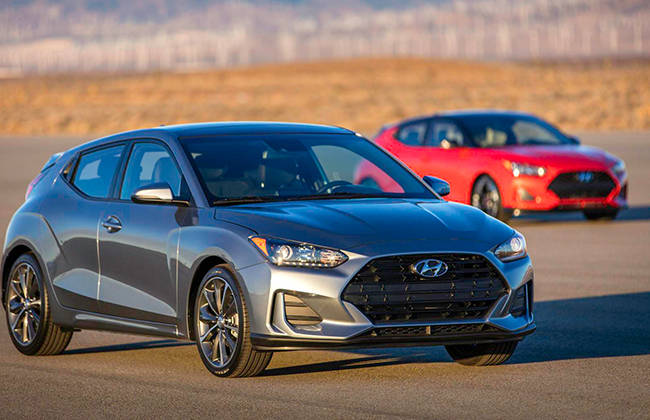 ABU DHABI: Hyundai has unveiled the 2019 Veloster and Veloster Turbo and also announced a few important specifications about them. However, the automaker has not revealed anything about the date when the new Veloster models will on sale in the Emirates.
The standard 2019 Veloster derives its power from a 2.0-litre petrol engine, offering a maximum power of 147 horsepower, besides yielding a peak torque reading of 179 Nm. The company claims that the Veloster Turbo will be drawing its power from a 1.6-litre, direct-injected, four-cylinder powertrain, generating 201 horsepower and 265 Nm of torque.
Front-wheel drive is standard in the entry-level model and customers can pick either a six-speed automatic or a manual gearbox. On the other hand, the turbocharged variant comes with either a seven-speed dual-clutch unit paired with paddle shifters or a six-speed manual.
The car features a prominent front grille, bigger re-diffuser, LED daytime running lights, LED headlamps, higher volume fenders, and wheel arches. It features a robust exterior set-up and comes designed with dampers, unique springs, and a pair of enlarged stabiliser bars at both front and back. It is also equipped with a redesigned steering calibration and an enhanced steering ratio.
Inside the Hyundai Veloster and Veloster Turbo, the cabin is quite spacious with 564 litres of cargo space. The layout is now visually more attractive with new textures and colours for interior trim. Standard technology features include a 7-inch display, eyes-free iPhone integration, Qi wireless charging, etc. Blue-Link LTE-powered connectivity feature might also be present.
All second-generation Veloster variants come stuffed with certain standard safety and convenience features including Driver Attention Warning, Lane Keep Assist, Forward Collision Avoidance Assist, Torque Vectoring Control (VTC) mated to electronic stability control (ESC), and engine control systems.
The existing Hyundai Veloster model that is on sale in the UAE is available at a starting price tag of AED 51,000. It is being speculated that when the 2019 model reaches the Emirates, the minimum price might be around AED 68,000. However, this is just an estimated figure.
You might also be interested in
Latest Hyundai Veloster Cars Videos on Zigwheels