2018 Suzuki Swift - Things every buyer should know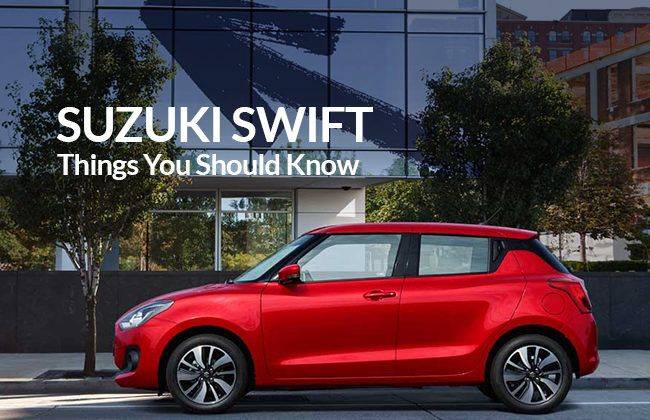 Suzuki UAE recently introduced the all-new Swift in the market. This unlike the previous-generation Swift comes with a bunch of strong styling characters, comfortable and unbinding amenities, advanced safety features, and uncompromising performance. Suzuki has rebuilt an legend that enjoyed global liking and has already sold over 5 million units.
On the exterior front, the new Swift features a distinctive, powerful styling complemented by a wide, low stance and seek muscular lines. The cabin has everything that makes the 2018 Swift a true icon and more.
Here are six things we liked about the new Suzuki Swift and think every buyer should know -
1. Best of both worlds - Economy and Output
A 1.2-litre petrol engine powers the all-new Suzuki Swift that despite its small displacement delivers high output. This car provides a powerful driving experience, thanks to its heightened compression ratio resulting in better thermal efficiency. Making the vehicle a low fuel churner, Suzuki has worked on its fuel combustion, reduced the friction, and made the engine more compact and light.
2. Next-generation platform
Suzuki has built the 2018 Swift from scratch, and therefore the hatch features a brand new 'HEARTECT' high-rigidity frame platform. The said platform displays a smooth and continuous curvey shape with near to zero joints that effectively absorb energy in case of a crash. With the use of light and high-tensile steel in the platform positive effects are seen on vehicle performance (tuning, running, and stopping) and fuel consumption.
3. Improved suspension
The 2018 Swift features a newly designed suspension, which is a part of the 'HEARTECT' platform. Both the front and rear side underpins the new tech that provides for a liner steering control and stable yet comfortable ride quality.
4. 4.8 meters of turning radius
Easing maneuverability on narrow turns, the next-generation Swift offers a turning radius of only 4.8m. This is due to the inclusion of new platform that is responsible for its wider turning angle. So, be it a narrow street or a tight parking spot you'll never have to worry when sitting behind new Swift wheels.
5. Smart cabin design
Suzuki has designed the driver's arena in a way that creates an impulse to take the vehicle immediately out for a spin. Included in the package are included a D-shaped race car-like steering wheel, driver facing centre console, and stylish and easy-to-see meter cluster. Taking care of co-passengers comfort and entertainment needs are present a 3.5-inch monochrome LCD infotainment system, Bluetooth capable audio system, and intuitive air-con panel.
6. Cabin Space that infuses playfulness
Suzuki Swift may look compact on the outside, but on the inside, it offers a spacious cabin for both the occupants and their belongings. While the generous booth space allows passengers to fit more, the fold-down split rear seat helps take all that you want. Adding to the sitting comfort are numerous easy-to-use storage spaces and ample of head clearance.
The 2018 Suzuki Swift comes with an array of feature and styling options. Offered in seven single and two double tone exterior color options, buyers have so much to look forward too. With a starting price tag of AED 44,900, Swift is one of the most affordable cars too under the 50,000 mark.
You might also be interested in
Latest Suzuki Swift Car Videos on Zigwheels