Ferrari unveils Huracan Spyder-rivalling 488 Pista Spider convertible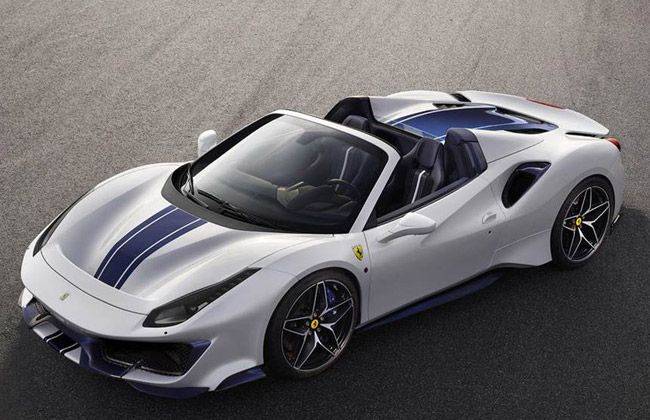 ABU DHABI: Ferrari has just managed to rival the Huracan Performante Spyder from Lamborghini by introducing the 488 Pista Spider. The unveiling event of this grand performance car took place at the Concours d'Elegance held in the Pebble Beach of California.
Ferrari has tried to keep the designing and the aerodynamic bits of this convertible 488 Pista Spider very true to its coupe version. This was ensured as the company did not want to make any changes in the performance due to aerodynamic alterations.
Further, the usage of light build materials has helped Ferrari keep the weight to a bare minimum. However, this usage even extends to the addition of straps in place of the conventional inside door handles. Moreover, the carpets have also been phased out and foot plates have made the entry, just to keep the weight in check.

Apart from just the absence of a hardtop roof, there is one more factor that differentiates it from the coupe version, which is the inclusion of 20-inch alloy wheels. Also, the particular model that was unveiled at the Pebble Beach event had an exclusive livery.

Under the hood, the Ferrari 488 Pista Spider uses the same engine mechanism from its coupe counterpart, which is the popular 3.9-litre V8-aligned motor with two turbochargers. This engine produces 720 PS and 770 PS of power respectively in the coupe and convertible. However, the performance figures are slightly different than the coupe. Despite having the same top speed of 340 kmph, the 0-100 acceleration is achieved in 2.85 seconds (2.8 seconds for the coupe), which is 0.05 seconds slower.
This difference in the performance could be attributed to the increase in the weight by 100 kgs. The roof-less Spider stands at a weight of 1,380 kilograms.
Explore Ferrari 488 Spider
You might also be interested in
Latest Ferrari 488 Spider Cars Videos on Zigwheels