Nissan Sunny vs Mitsubishi Lancer - The better sedan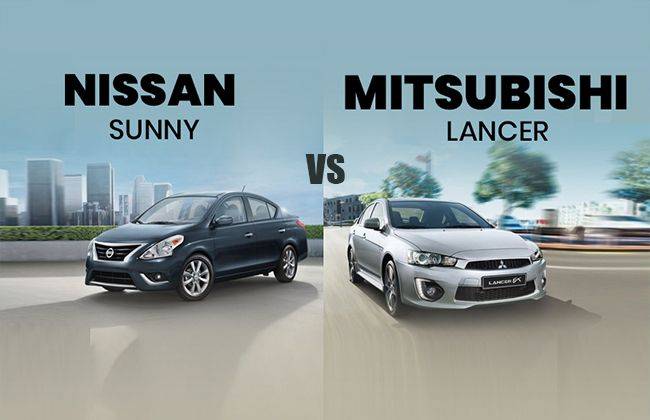 Japanese carmakers are internationally renowned for their reliable offerings but both Nissan and Mitsubishi have a few other accolades under their belts. Over the course of its tenure in the industry, Nissan has managed to develop a diverse portfolio that ranges from halo performance products like the GT-R, to premium offerings like the ones found in the company's luxury subsidiary's (Infiniti) lineup. Nissan also offers Sunny which is one of the most competitively priced offerings in the United Arab Emirates.  
On the one end where Sunny capitalizes on its versatility, practicality and competitive efficiency, Mitsubishi Lancer has developed its own dedicated fan following courtesy of the nameplate's rally pedigree and performance.  The two sedans can seat up to five passengers and get a front-wheel drive type but other than that, the two offerings are quite different from one another. Nevertheless, the polarizing USPs of the two models have always been a subject of contention for those on the lookout for their next family sedan. So let's take a deep dive into the two models and find out which is the right salon for you. 
Dimensions
With the exception of the payload capacity, Mitsubishi Lancer broadly manages to outshine Nissan's offering in every category when it comes to dimensions. Even with its sporty styling, Nissan Sunny is only 10 mm taller than Lancer which happens to be both longer and wider than Sunny and also gets a 45 mm longer wheelbase than Nissan's offering.
Exterior
Nissan Sunny's exterior has been designed in a way to offer maximum utility and cabin space while conforming to the compact dimensions of the sedan. This is why the designers opted for a taller design whereas the overall silhouette of Mitsubishi Lancer flaunts sportier styling. Mitsubishi Lancer rides on 18-inch alloys whereas Nissan Sunny rides on 14-inch. The headlight cluster offered in the Lancer is an HID unit whereas Sunny features halogen clusters. Mitsubishi Lancer also gets a rear spoiler which is not offered in Nissan Sunny. 
Interior
Comparing the cabin spaces of the Nissan Sunny and Mitsubishi Lancer, it becomes obvious that Nissan's offering has been designed to put comfort over driving dynamics. Sunny's cabin is one of the most ergonomically well-designed spaces while sitting in Mitsubishi Lancer, a driver feels well supported at the time of handling the tricky corners.
Nissan Sunny is offered with fabric seats, leather steering wheel, multi-information display, manual seat adjustment control, power outlets and cup holders. The interior space of Mitsubishi Lancer, however, is a much more premium affair that comes equipped with features like touch screen infotainment system paired to a 9-speaker premium audio interface. Lancer is also available with paddle shifters, electric sunroof, leather gear shift lever and auto-dimming mirrors amongst other features.
Engine 
Nissan Sunny is a much more frugal offering than Mitsubishi Lancer. Both cars come equipped with the same 5- speed automatic gearbox but Lancer manages to accelerate from 0 to 100 kmph in under 10.7 seconds, however, it takes Sunny 15.5 seconds to complete the same run.
Safety
Mitsubishi Lancer takes the lead when it comes to offering superior safety and protection. Mitsubishi's offering was awarded a 5-star crash- test safety rating by the NHTSA and the Euro NCAP. Nissan Sunny, on the other hand, only received a 4-star rating from NHTSA and has not been tested by the Euro NCAP yet. Some safety features offered in the two cars are as follows:
Price
The entry-level models of Nissan Sunny and Mitsubishi Lancer are quite competitively priced with a difference of AED 3000 only, but that is not the case as you move up the range of the two offerings. The mid-range and the top-of-the-line variants of Lancer are considerably more expensive than those of Nissan Sunny.
Verdict
With only an AED 3000 price difference between the entry-level variants of these sedans, needless to say that the two offerings were intentionally priced to be quite competitive, however, the two cars could not be more different. With a 2.0 liter engine that was also used in the EVO once, Mitsubishi strapped a turbocharger on top of it, even in its standard tuned state the powerplant in the Lancer manager to offer impressive performance for its price point. 
When it comes to pricing, Nissan Sunny manages to offer the most bang for your buck. Not only does Nissan Sunny offers more cargo space than Lancer it also offers a more efficient fuel economy that makes it one of the best family sedans in its price point.
Also read: Honda Pilot vs Mazda CX-9 - The better buy
You might also be interested in
Latest Nissan Sunny Cars Videos on Zigwheels