Toyota Rush or a sedan in the same price bracket - Which one should you buy?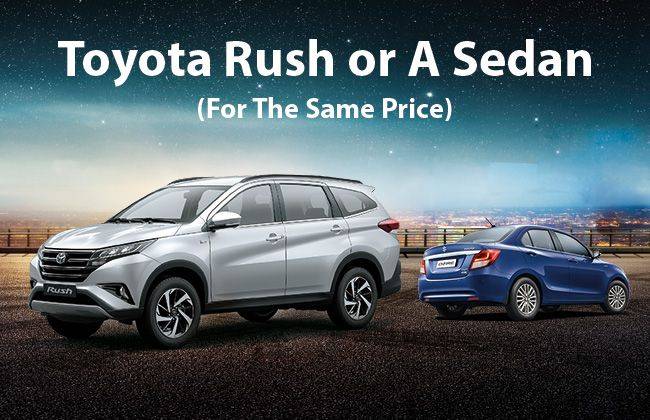 In the today's day and age, the word 'versatility' means a lot when it comes to designing automobiles. It is this very reason which is solely responsible for making the segment of SUVs enjoying the popularity which it is right now. Every manufacturer understands this reason, which is why they have come up with some really new segments and categories which were somehow absent in the past, such as off-road ready sedans and MUVs. The Toyota Rush is one such vehicle which falls in the latter category.
Sure, the Rush is not a new word in the world of cars, for the nameplate has served its purpose as a highly successful compact SUV in the past. However, the games have changed, and in order to make the business even more serious, the Rush has grown in every aspect – be it size, extra pair of seats, engine performance, or features. The Rush is every bit that vehicle which the world needs right now.
However, conventions cannot be ignored, as it is the category of sedans that have been considered more premium than MUVs in the past. Though, with that SUV-ish touch, the Rush has got some extra brownie points over similarly priced sedans.
Here's our comprehensive take on the aspects which make the Rush somehow a better value proposition over similarly priced sedans:-
Extra third row seats –
The biggest addition in the Rush has to be the extra pair of seats in the third row. The previous generations of the Rush lacked it, this one has it. This simply means that you can make two more persons sit in your car, unlike any sedan in the market. However, this third row is best suitable for kids and not full-sized adults, owing to limited legroom.
Flexible seating configurations –
Due to the presence of the third row, you simply can't get the massive boot space of a sedan in the Toyota Rush. However, you do have a solution for it. When not in use, the third row can be folded down completely or in a 50:50 split manner, in order to maximize space at the back. This gives a sedan rivalling boot space to the Rush. And that's not all, you can also fold down the middle row, which can seat three people, in various configurations with 60:40 folding ratios. This gives even more practical permutations and combinations of carrying passengers with luggage.
Features –
The previous generation Toyota Rush was criticized heavily for lacking the touch of modernity due to lack of several modern features. Not anymore, as this, all-new Toyota Rush packs in all the modern features which one associated only with premium sedans in the past. You do get full LED headlamps with daytime running LEDs, a touchscreen infotainment system with reverse camera and navigation, push-button start and diamond cut alloy wheels, making the Rush not only practical but also premium in appeal.
Engine and performance –
Like any other entry-level sedan, the Toyota Rush also gets a creamy smooth and refined 1.5-litre four-cylinder petrol engine, which puts up a decent power output of 103 PS. This engine is mated to a 4-speed conventional torque converter. The engine has already proven its mettle globally in Rush as well as other Toyota cars like the Yaris, which means that there is no reason to doubt its refinement and reliability.
Extra ruggedness –
The Rush has been designed to be called a compact SUV, which means that it can trail over some areas where the sedans cannot go. Thanks to body cladding, large 17-inch wheels, and higher ground clearance over sedans. The Rush has the visual appeal as well as ability to go over slightly more difficult terrains with more confidence. All these features are somewhat absent in similarly priced sedans, thus curbing their practicality a bit when compared to Rush.
Safety –
When compared to all the sedans positioned similar to the Toyota Rush, the latter comes with a couple of more safety features, which makes it an even better value for money proposition. One does get a host of safety features which includes front, side and curtain airbags, ABS, rear fog lamps, tyre pressure monitoring system, reverse parking sensors, Vehicle Stability Control, Hill Start Assist Control, and ISOFIX mounts.
Explore Toyota Rush
Toyota Rush
AED 68,500 - AED 73,000

EMI starts : AED 1,177
You might also be interested in