Toyota FJ Cruiser vs Jeep Wrangler - The better 4x4 SUV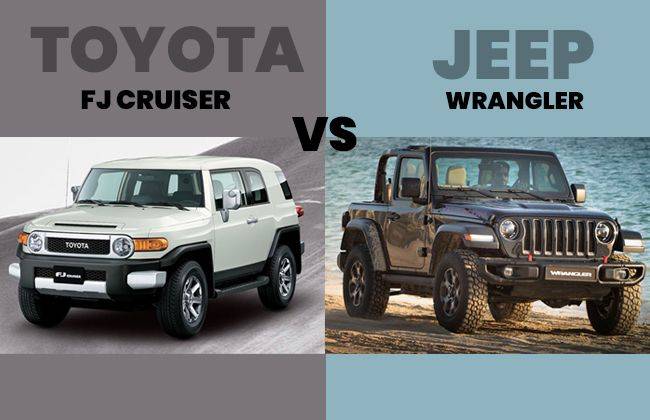 Sport Utility Vehicles (irrespective of the new world's view on greener and more efficient cars) are not really not going away anywhere, especially not in places like the United Arab Emirates. And almost every major automaker is keenly aware of the popularity of 4x4s in the region. So this means that there isn't any dearth of these vehicles.
For this one, let's focus on the Toyota FJ Cruiser and Jeep Wrangler. As we know by now, both of these are extremely popular and well-liked SUVs in the region, and they have their own respective fan bases. In the case of the FJ Cruiser, as we know it today, Toyota released it back in the mid-2000s. Interestingly enough, the FJ Cruiser doesn't really have any newer/all-new iteration since its initial debut.
On the other hand, the Jeep Wrangler has been around for even longer -- at least for well over fifty decades! The American auto giant is well-known for its 4x4s, including the likes of the Compass, Cherokee, Grand Cherokee and of course, the Wrangler. Just like its predecessor (the JK series), the all-new fourth-generation Wrangler JL is available in two-door and four-door (Wrangler Unlimited) versions.
So if you are currently in the market for a midsize SUV (and not a crossover), which one of these two would make for a better buy? Well, let's try and find out.
Dimensions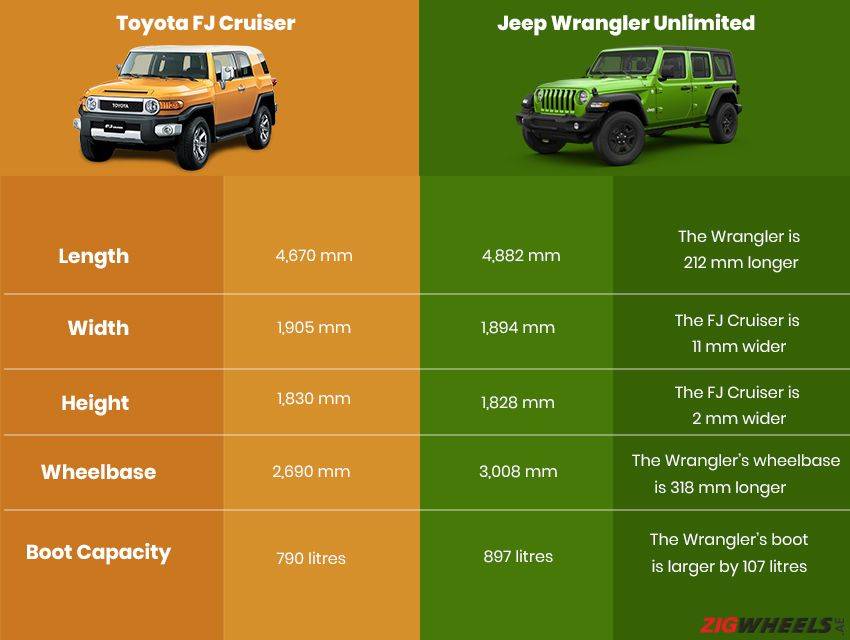 Exterior
If we are talking about the design of these two blue-blooded off-roaders, they aren't all that different in their overall approach. Both feature a boxy, old-school silhouette which is becoming increasingly rare in the world of SUVs these days. However, the 2020 Jeep Wrangler has received certain updates that make it a longer vehicle, while at the same time affording it more wheelbase and boot space.
Having said all that, the FJ Cruiser and Wrangler still boast a tough, rigid and time-tested body-on-frame construction -- a concept that isn't too prevalent and not as modern, thus becoming rarer with each passing model year. Of course, come close and you will notice the newer Wrangler JL gets some modern niceties that the FJ misses out on.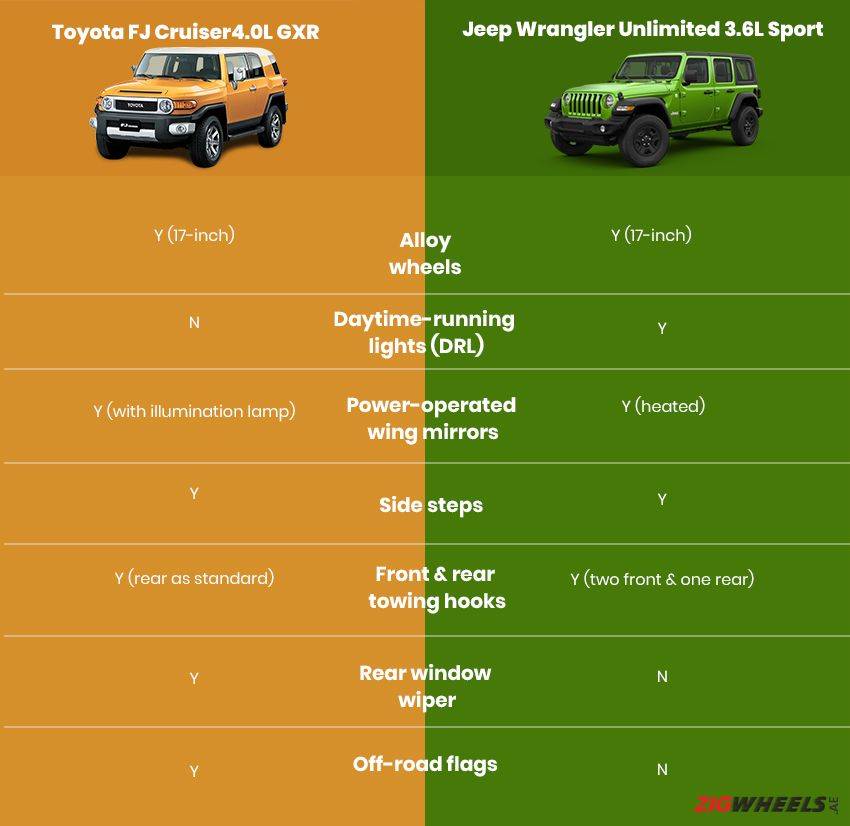 Some of the latest upgrades on the outside of the all-new Jeep Wrangler JL include things like fancy daytime-running lights, a reworked front and rear bumper, tubular side steps, massive side fenders, restyled side mirrors, chic-looking LED tail lamps, and a subtle roof spoiler amongst other touches.
On the other hand, the Toyota FJ Cruiser adamantly remains in the mid-2000s, at least as far as its styling is concerned. Upfront, you have the old-school 'Toyota' branding on the grille. This is flanked by circular headlamps, large (filament) turn indicators, a hardcore front bumper accompanied by a tough bash plate, clamshell hood with a small air-intake slit, an almost-flat windshield with three wipers.
Along the side, the FJ Cruiser comes with large, vertically-aligned wing mirrors with illumination lights, squared wheel arches with peculiar fenders, flat roofline, a twin-door setup (the rear doors being rear-hinged), and thick C-pillars.
At the back, this Toyota sports a side-hinged rear door (with its massive spare wheel), protruding rear main lamps, and a rear skid plate arrangement. Overall, the FJ Cruiser is the kind of SUV that those who have a soft corner for old-school 4x4s would love to wake up to every morning. Meanwhile, the new Wrangler not only appeals to Jeep lovers but also to those who want some modernity in their next dune basher.
Interior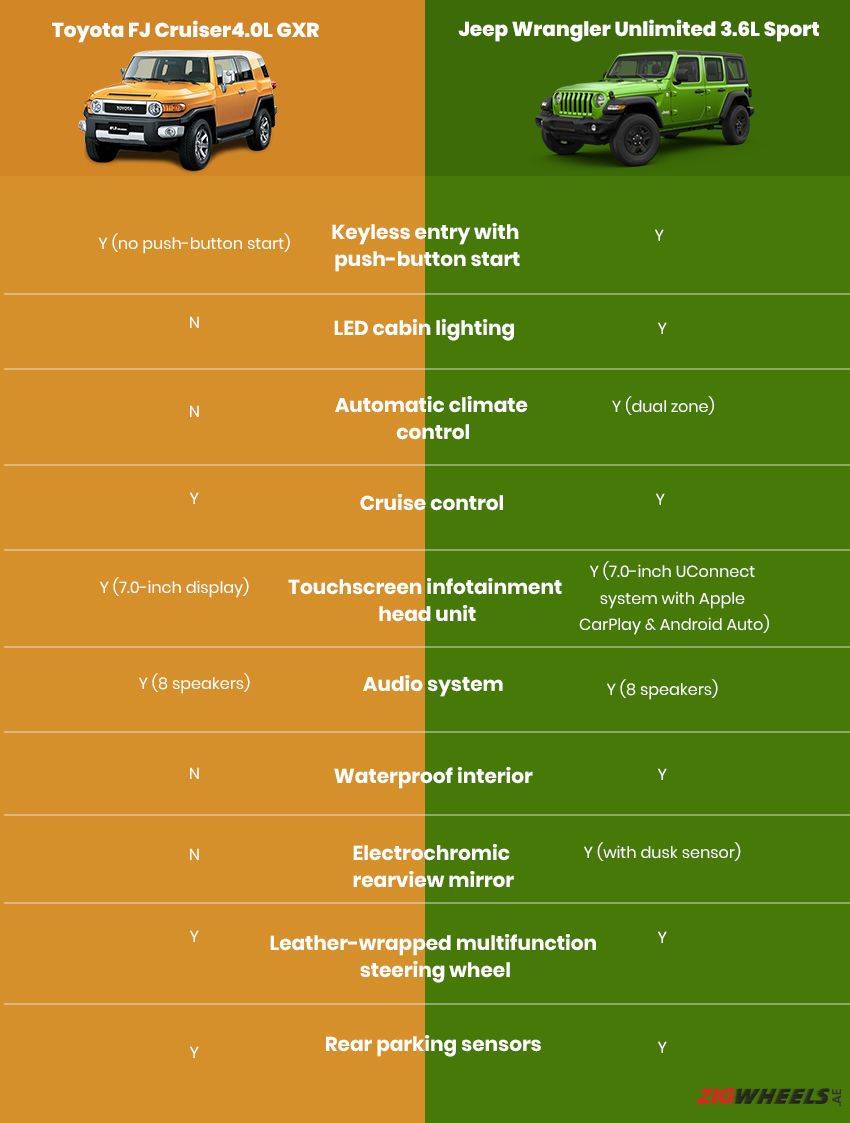 Comparatively speaking, the interior of the Toyota FJ Cruiser looks dated and traditionally something you would find inside a car from its era. There are many flat and vertical surfaces in here, with old-school (but useful) analogue gauges (including an inclinometer and a compass) on the dashboard, traditional parking brake lever, manual air-con controls, grab handles, and a lever for the four-wheel-drive system.
The FJ Cruiser's interior comes with several satin silver garnishes to boost the general ambience of this cabin. This cabin scores well when it comes to space, fit & finish, and ease of use for almost every control and accessibilities. However, a peculiarity here being the fact that the rear passengers can't get out of the vehicle unless the front doors are already open.
Looking at the new Jeep Wrangler JL, its interior unarguably comes across as being more up-to-date and that too without losing any of its old-school charms. For example, you can get some good-quality materials here (even with contrast stitching), decent build quality & fit-and-finish, and appreciable space for passengers and even better, loads of cargo room in the back.
However, if you are into modern technology and features, then the 2020 Jeep Wrangler, even in its base Sport trim, does a better job than the FJ Cruiser GXR. Not only the better infotainment system, but also better instrument gauge, all-around visibility, and the overall touch & feel of the switchgear.
Engine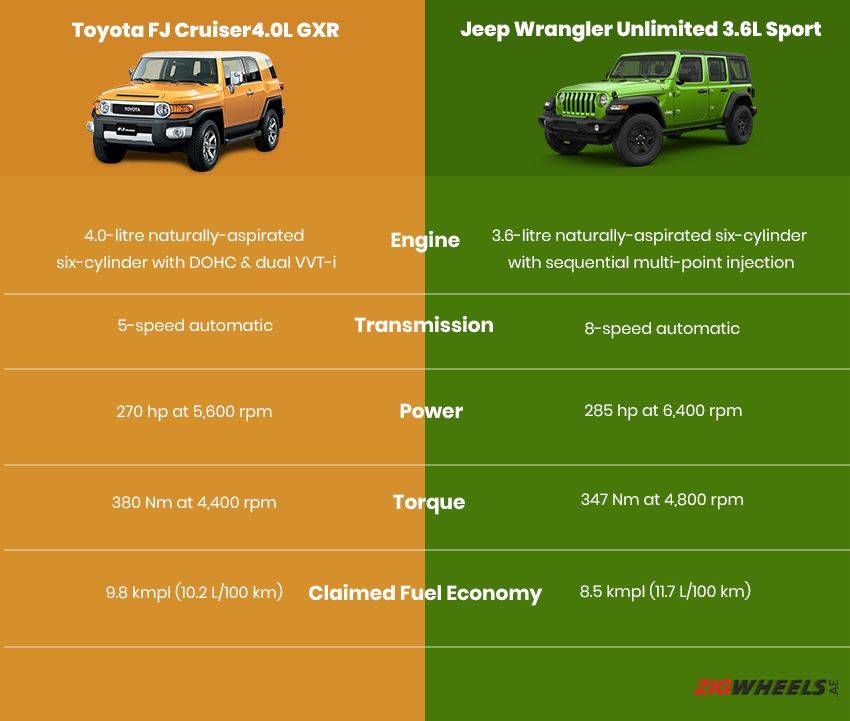 While fuel efficiency isn't the biggest concern when buying a 4x4 like one of these, 2020 standards mean that it cannot be too bad, either. However, if we are just looking at the numbers here, it becomes clear that the older Toyota FJ Cruiser is a touch more "economical" when compared to its American rival.
When it comes to their performance, despite its smaller displacement, the Jeep Wrangler specs sheet carries a 3.6-litre V6 report in with 285 hp and 353 Nm of torque - all assisted by an 8-speed automatic transmission. In comparison, the FJ Cruiser's 4.0-litre V6 brings in 270 hp and 380 Nm with a robust 5-speed automatic gearbox to go along with its selectable four-wheel-drive system.
If you were to firewall the accelerator, the Toyota FJ Cruiser can touch 100 kmph in around 8 seconds or so, with a top speed in the region of 180 kmph. The newer Jeep Wrangler JL, meanwhile, can hit the tonne-mark a second quicker than its Japanese rival (7.0 seconds), and its top whack is rated at 185 kmph.
Safety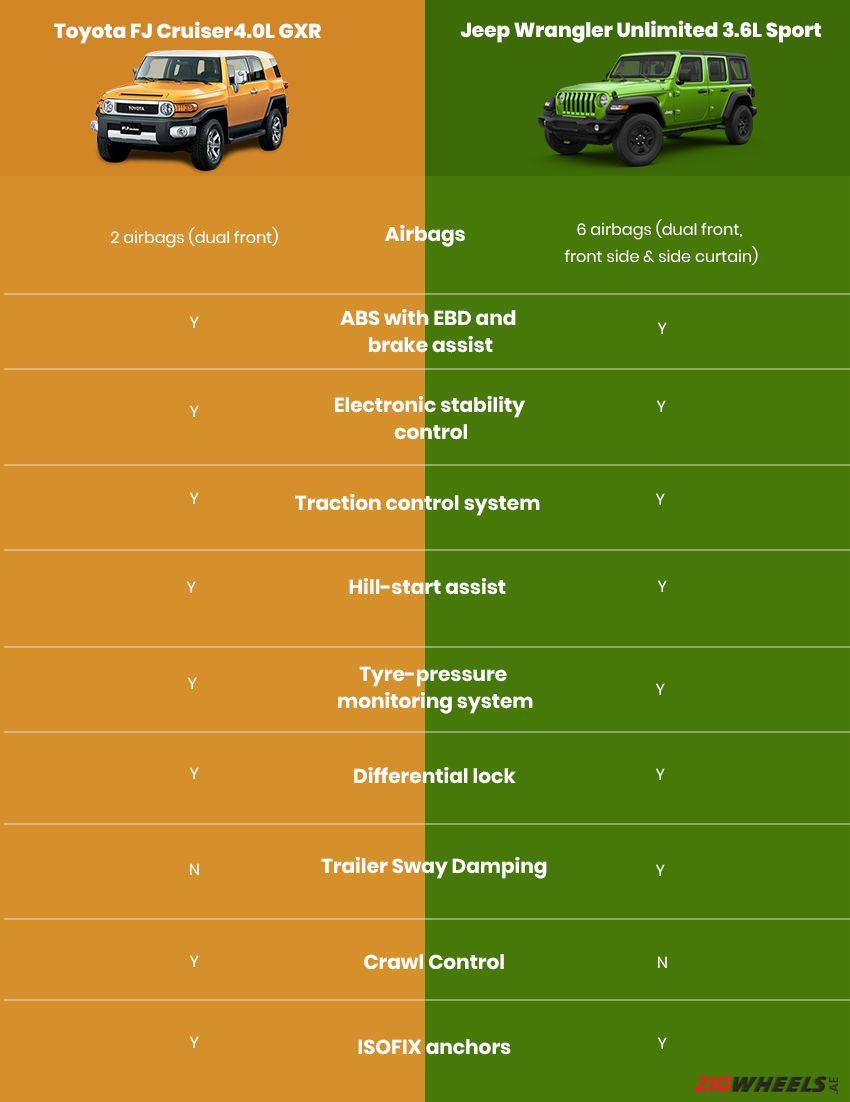 Occupant safety sure has come a long way in the recent times, and unfortunately, the Toyota FJ Cruiser shows its age here (and not in a good way). It only offers two airbags (in GXR trim), while the Jeep Wrangler Unlimited Sport comes with six. Of course, if you spend more money, the Wrangler can be had with even more safety kit.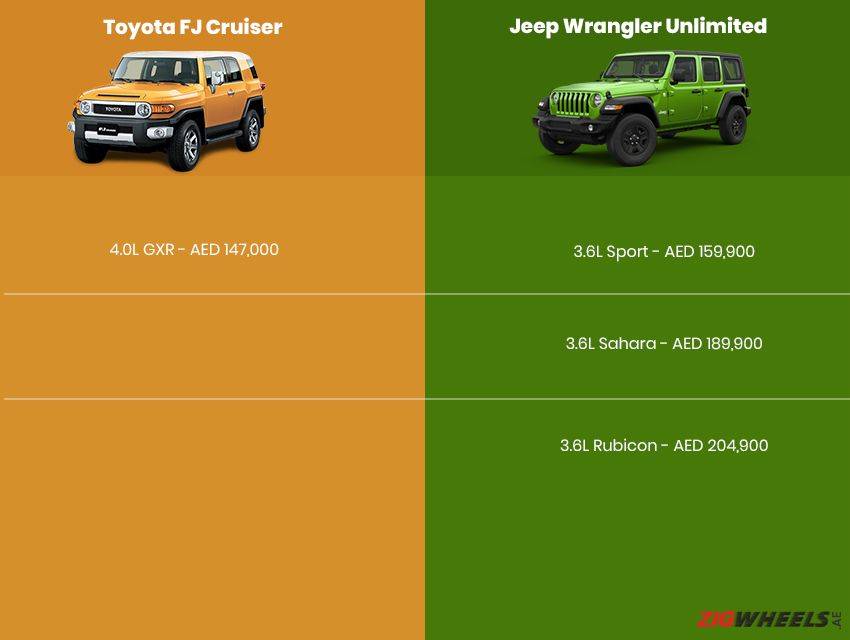 If you don't want to spend much, then the Toyota FJ Cruiser (with a price tag of just 147,000 dirhams) offers enough to keep you happy on most occasions. However, if you like your next 4x4 to possess better technology, more safety features, undeniably more customisations post-purchase, better on-road performance, more rear-passenger, and boot space, then the 2020 Jeep Wrangler makes for a great choice.
Also read: Honda Pilot vs Mazda CX-9 - The better buy
Toyota FJ Cruiser vs Jeep Wrangler Unlimited Comparison
Toyota Car Models
Toyota Land Cruiser

Toyota Raize

Toyota Fortuner

Toyota Land Cruiser Prado

Toyota Rush

Toyota Corolla

Toyota Corolla Cross Hybrid 2023

Toyota RAV 4

Toyota Yaris Sedan

Toyota Camry

Toyota Hiace

Toyota Avalon

Toyota FJ Cruiser

Toyota C-HR HEV

Toyota Hilux

Toyota GR Supra

Toyota Highlander

Toyota RAV 4 HEV

Toyota Granvia

Toyota Land Cruiser Pick Up

Toyota Liteace

Toyota Camry HEV

Toyota Hilux Adventure

Toyota Corolla HEV
Toyota Cars Price


Select your city to start search
Or select from popular cities